Environmental Education Fellows & Mentors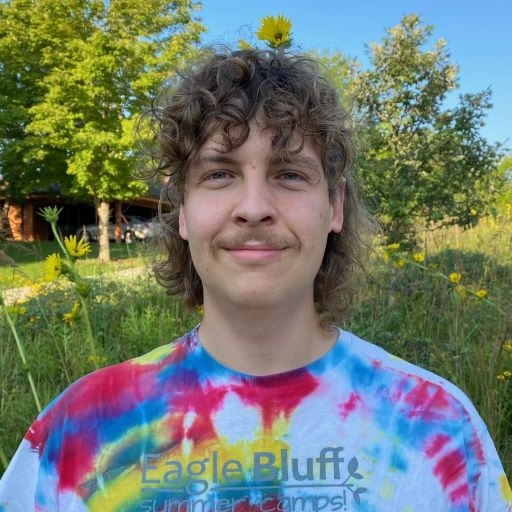 Alex Belisle (he/him)
Environmental Education Mentor
After graduating from the University of Wisconsin-Platteville, Alex spent a year at the Aldo Leopold Foundation as a Land Steward fellow learning to restore and manage natural ecosystems. After spending the last three years between Beloit/Baraboo/and Platteville, WI  working in land management, he joins Eagle Bluff as a Environmental Education Fellow excited to share his passion and knowledge of the environment with others. Hailing from the dark depths of the ocean, Alex enjoys reading, hammocking, playing board games, archery, long walks in the woods, cooking, playing video games, camping, and not getting caught in the rain. Ow-ow. 
Fun Fact: Alex is slower then a bear.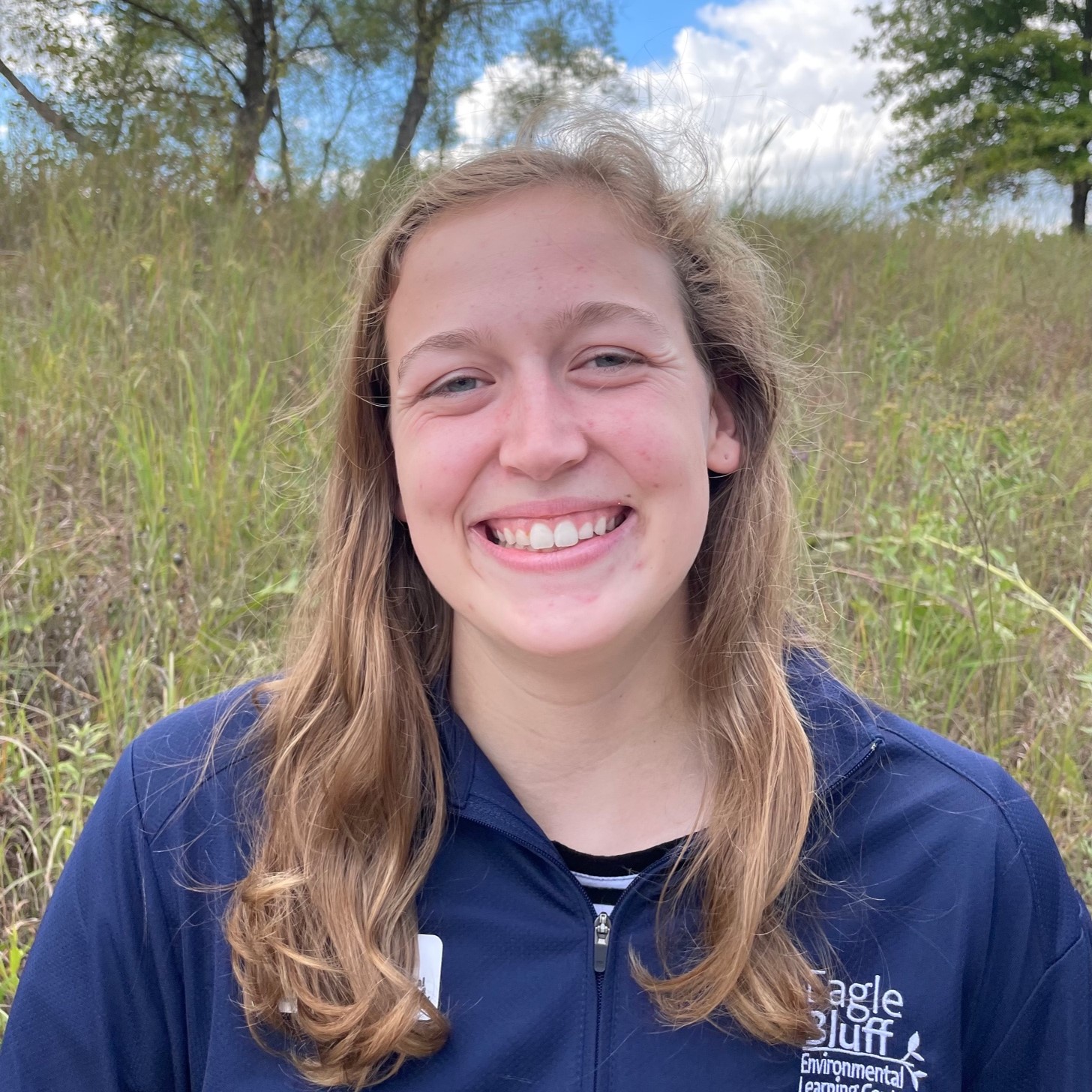 Gretchen Olson (she/her)
Environmental Education Mentor
Gretchen grew up in Woodbury, MN and is a huge fan of the Minnesota State Fair. Gretchen graduated from St. Olaf College with a degree in biology. She enjoys hanging with the other fellows and loves a spontaneous dance party. Gretchen is a huge fan of cute animals, sunsets and quoting movies.
Fun Fact: Gretchen leads the Eagle Bluff staff in the number of sloth items she owns.
OW OW!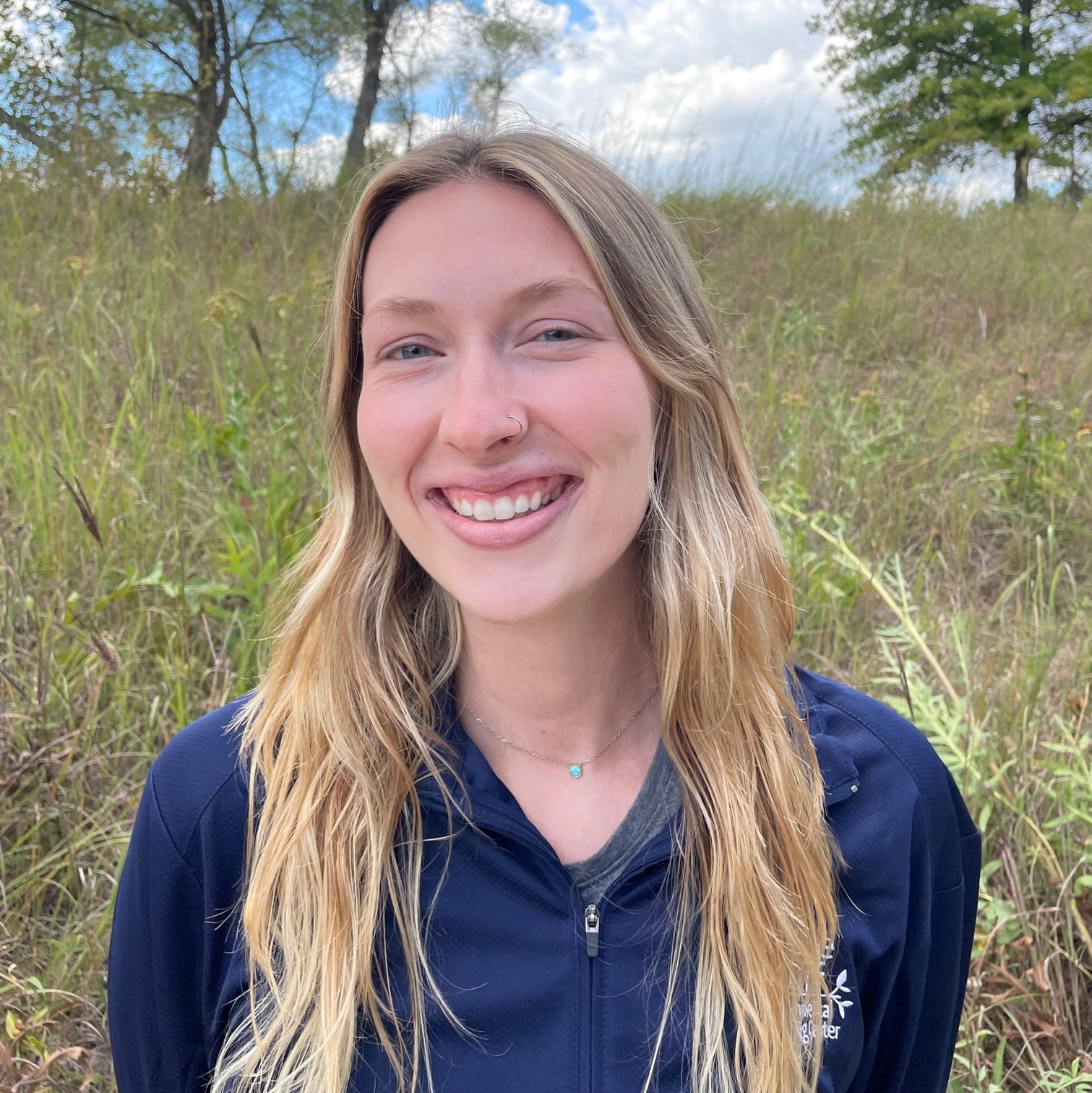 Ana Furnari (she/her)
Environmental Education Mentor
Ana (more commonly known at the Bluff as Furn!) grew up in New Jersey and graduated from Franklin and Marshall College in 2020 before making the move to Minnesota. She enjoys reading in the sun, watching shows with friends, drinking obscene amounts of iced coffee, keeping spiders as pets, and making the absolute best breakfast burrito on Eagle Bluffs' campus.
Fact: She was once knocked briefly unconscious by a flying fish (ow ow)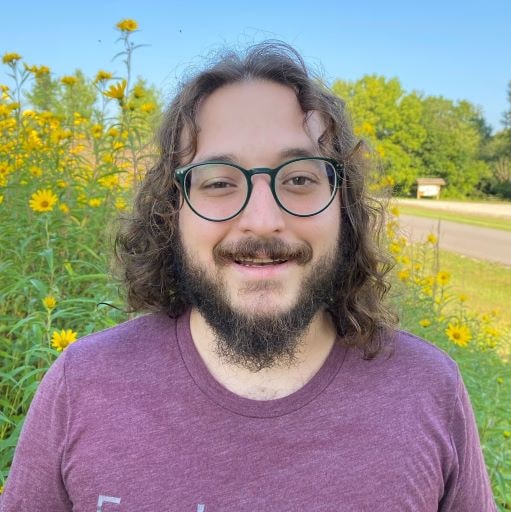 Doruk Evcim (he/they)
Environmental Education Fellow
After growing up all the way in Istanbul, Turkey, Doruk came to the United States for college. They graduated from Vassar College in May 2022 with a double major in Drama and Biology with a focus on Ecology. They decided to join the Eagle Bluff Fellowship program to help inspire kids with the love of nature and outdoors. They also hope to learn more about and connect with the Driftless Area through the unique perspective of someone from a whole different continent and are excited to meet new people from all around the area.
Fun Fact: Doruk has acted in 4 commercials and a few episodes of a sitcom back in Turkey, they even have an IMDB page!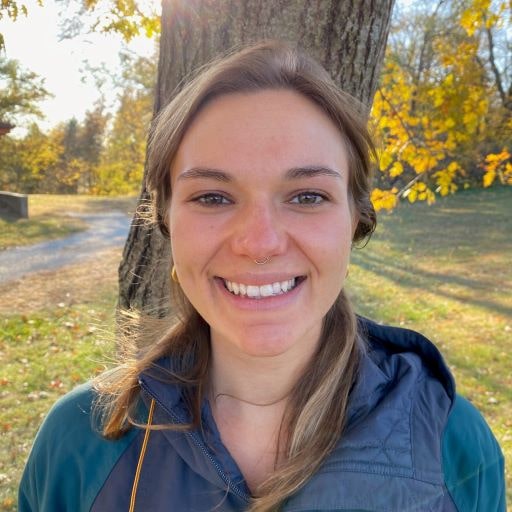 Emilie Potocki (she/her)
Environmental Education Fellow
After graduating from the University of La Crosse in Spring of 2022, Emilie decided to continue her love for education in an area that has always felt like home; the Driftless. Rooted and raised in Wisconsin, Emilie is excited to foster her skills and knowledge about environmental education as a member of Eagle Bluff's fellowship program. She enjoys experimenting in the kitchen (most meals turn out good), hiking & exploring new areas, crafting, biking down big hills, playing and listening to music, and reading (especially cuddled up next to her dog Louie).
Fun fact: Emilie's lifelong dream is to sleep on a cloud.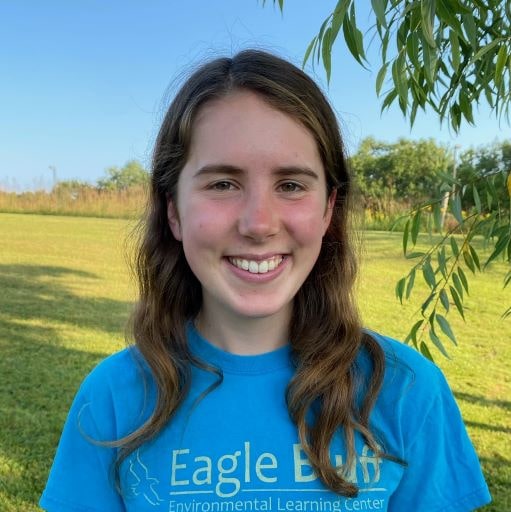 Emma Harte (she/her)
Environmental Education Fellow
Emma grew up in Massachusetts and graduated from Cornell University with a degree in biology. With a background in outdoor education, she is excited to explore the Driftless and further her teaching skills as an Environmental Education Fellow. In her free time, Emma enjoys hiking, trail running, and cross country skiing.
Fun fact: Emma played the role of a napkin in her 5th grade school musical.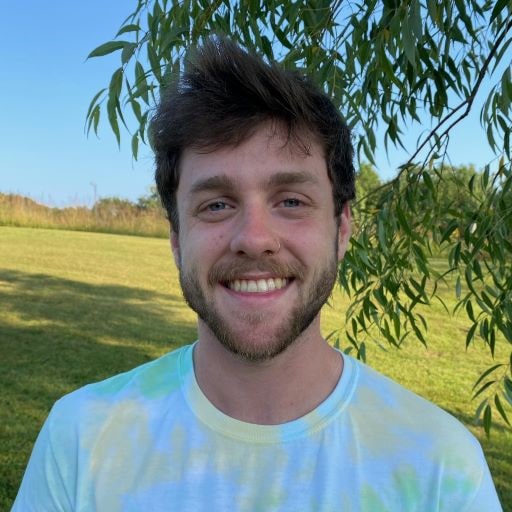 Joe Olmsted (he/him)
Environmental Education Fellow
Joe is a proud Georgian through and through. After graduating from the University of Georgia in 2022 (go dawgs), Joe decided to ditch 35 degree winters to teach in the beautiful state of Minnesota. You can usually find him watching an irreverent comedy show, attempting to finish a book, or running around playing sports with his friends (despite him declaring his disdain for running). He also enjoys live music, playing piano, and fishing!
Fun fact: Joe and his father were both hit by separate school busses within the same week (zero injuries!)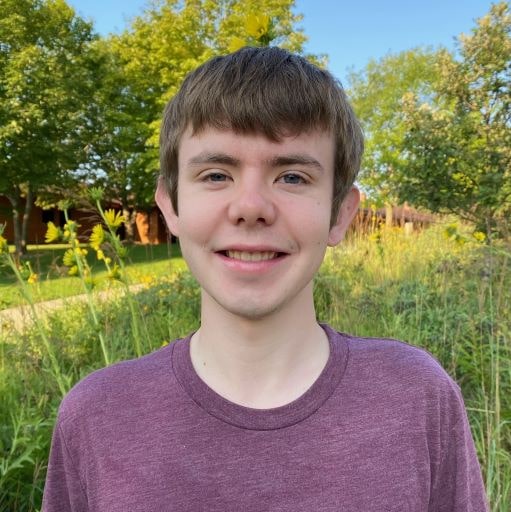 John Nash (he/him)
Environmental Education Fellow
After graduating from Carthage College John spent a year building up his environmental education credentials. John is a certified Wisconsin Master Naturalist. After spending time in Southeastern Wisconsin John decided to come to Southeastern Minnesota. He joins Eagle Bluff as an Environmental Education Fellow excited to give students all Eagle Bluff has to offer. Hailing from the wilds of Northern Illinois John enjoys, swimming, biking, hiking, camping, archery, cliff jumping, watching movies and reading a good book. John can often be found sitting beside a warm campfire.
Fun fact: Fun fact: John has been cliff diving in the waterfalls at the base of Mount Kilimanjaro.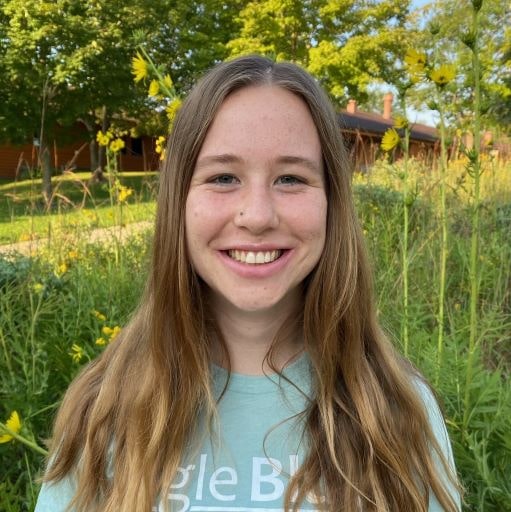 Paige Waskow (she/her)
Environmental Education Fellow
Paige is from the great city of St. Louis, Missouri. She graduated from Coe College in 2022 and joined Eagle Bluff after spending the summer working in the boundary waters. She loves being outside, especially if it includes playing ultimate frisbee. She also loves reading, writing, canoeing, making up random songs, and going on adventures.
Fun fact: Paige is inspired by Kronk from the Emperor's New Groove and believes that singing your own theme music while doing daily activities is a necessity.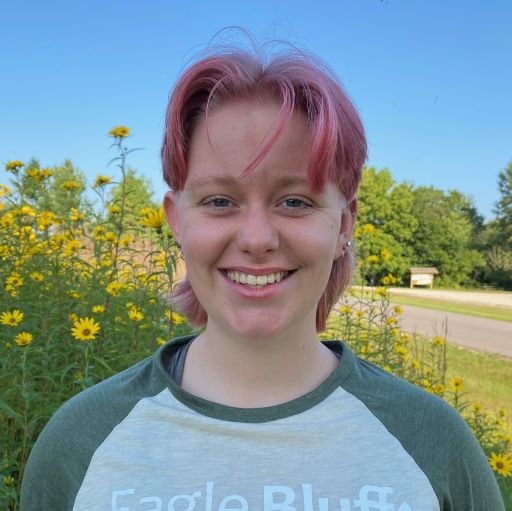 Riley Waters (they/them)
Environmental Education Fellow
Riley grew up in Portland, OR. From an early age they were often outside catching snakes, salamanders, and frogs with their dog and sister, or skiing starting at 2 with their family up on mount Hood, to camping along the Oregon coast. Along with a love for the outdoors grew a love of sciences, eventual graduating from Macalester College in 2022 with a Biochemistry major and biology and geology minors. Riley played on Macalester's varsity water polo team and continues a love of team sports playing basketball, ultimate frisbee, football, and more with staff members. Riley also loves filling their free time with cooking and playing games with friends.
Fun fact: Riley has a pet frog (Australian green tree frog) named Lola.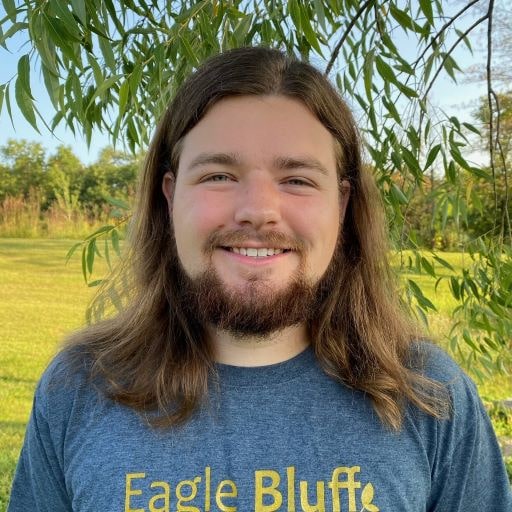 Will Gershon (he/him)
Environmental Education Fellow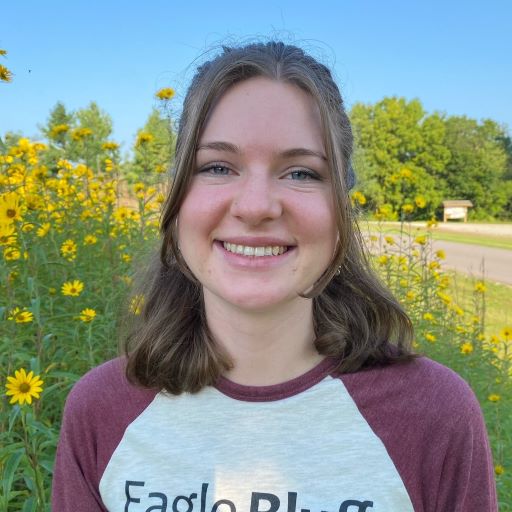 Clare Mazack (she/her)
Environmental Education Fellow
Clare is originally from Madison, Wisconsin, but has a deep love for Minnesota after living in the state for the past several years! She graduated from Macalester College in 2022 with majors in Educational Studies and American Studies, and a minor in Environmental Studies. In her free time she enjoys biking, reading, playing music with friends, learning the cello, and spending time in any cozy coffee shop she can find!
Fun fact: Clare has a history of getting stranded at unfortunate times by her beloved but dramatic car Raela, including in a snow storm, in the Mall of America parking lot, and while she was moving between states.
Board of Directors
Katie Bauer
President
Northfield, MN
Jessica Voss-Kehl
Vice President
Inver Grove Heights, MN
Jeff Burns
Secretary
Wabasha, MN
Ian Mwangi
Treasurer
St. Paul, MN
Susan Benysh
Rochester, MN
James Kelly
Rochester, MN
Dennis Schreiber
Rochester, MN
Mike Rapatz
Minneapolis, MN
Jessica Schuler
Farmington, MN
Mary Eileen Fitch
Winona, MN
Austin Bauer
Northfield, MN
Nancy North
Lanesboro, MN
Melissa Malinoski
St. Paul, MN
Belick Pha
Eagle Lake, MN