Not Pictured:
Shayla Gherke
Head Housekeeper
Environmental Education Fellows & Mentors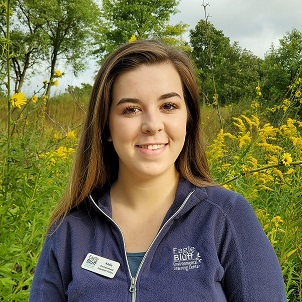 Addie Motta
Environmental Education Fellow
Email: addiem@eaglebluffmn.org
Addie joined Eagle Bluff's Fellowship program after graduating from Loyola University Chicago in 2019. She is passionate about working with animals, especially Eagle Bluff's birds of prey. Her favorite class to teach is Pioneer Life. When not at work, Addie enjoys visiting national parks, getting Starbucks, and watching The Bachelor!
Fun Fact: Addie's favorite holiday is Halloween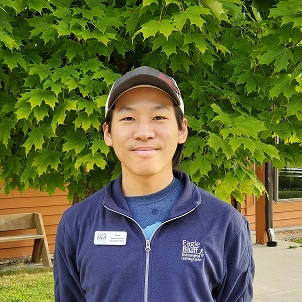 Alex Lau
Environmental Education Fellow
Email: alexl@eaglebluffmn.org
Alex is a local native from the island of Oahu, HI. He graduated from the University of Hawaii at Hilo with a degree in marine science and a certificate in K-12 education. His passion gears towards developing innovative education programs and educating students towards environmental stewardship. Eagle Bluff classes Alex enjoys are winter survival, pioneer life, pond studies, and Oneota; classes that are highly engaging with students and utilizing the outdoors as their classrooms. During Alex's spare time, he enjoys gardening, learning/enjoying tea, cooking, outdoor exploration, traveling, snorkeling, and visits to aquariums.
Fun fact: Alex's favorite marine animals is the black sea cucumber (Holothuria atra).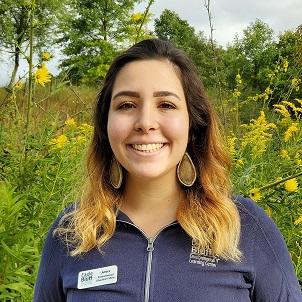 Amira Alaoui
Environmental Education Fellow
Email: amiraa@eaglebluffmn.org
Amira grew up in a suburban neighborhood just south of Minneapolis which was within walking distance of the Minnesota River and the local dog park. Therefore, she spent her childhood exploring the natural world often with a book in one hand and a dog leash in the other. She first discovered Eagle Bluff in 6th grade but it was always on her mind. She recently graduated from the University of Wisconsin – La Crosse in summer of 2019 with a Biology degree. When Amira is not teaching, she can be found in the kitchen cooking a family-style dinner, creating handwritten cards or hiking the local trails with her beloved border collie.
Fun Fact: Her dream vacation is camping on the North Shore.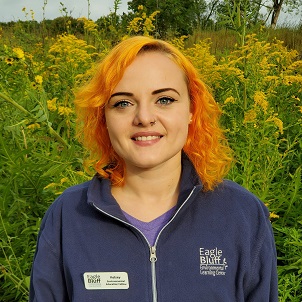 Cat Moe
Environmental Education Fellow
Email: catm@eaglebluffmn.org
Cat is a native Minnesotan who grew up exploring the outdoors with her triplet sisters in the south suburbs of the Twin Cities. She graduated in 2018 from the University of Minnesota with a BS degree in Environmental Education and Communication. She's excited to get her paws wet and learn more the wonders of the outdoors and teaching with the E.E. Fellowship Program at Eagle Bluff. When she's not busy looking at trees, she enjoys anything artsy or crafty, board games, and baking.
Fun Fact: She owns a lovely cat named Mordecai who enjoys stealing pizza slices and pillows.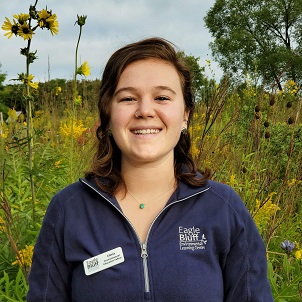 Elena Santarella
Environmental Education Fellow
Email: elenas@eaglebluffmn.org
Elena discovered a passion for the outdoors while gallivanting around the red rocks and foothills near her house in Colorado. She made her way to Minnesota for college, graduating from Macalester College with a degree in Political Science and Environmental Studies. When not pointing out birds to children in Eagle Bluff classes, she loves listening to punk rock, playing frisbee, advocating for the Green New Deal, and laughing loudly.
Fun fact: She has peed on the Argentine side of the Patagonia mountain range.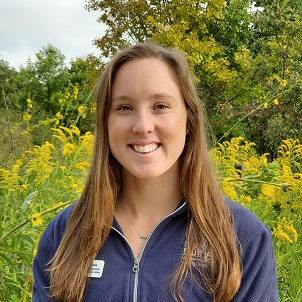 Emily Thurow
Environmental Education Fellow
Email: emilyt@eaglebluffmn.org
Emily grew up in southeast Minnesota just 50 minutes from Eagle Bluff in Winona, MN and went to school at the Unviersity of St. Thomas graduating with a degree in Environmental Studies. She previously worked for the U.S. Fish and Wildlife Service as a Youth Conservation Corps Leader and for the University of Minnesota doing ecology field work before landing the 2019-2020 fellowship position at Eagle Bluff. When away from work Emily enjoys hiking, skiing, family time at the lake, and snuggling with her four dogs!
Fun Fact: Emily loves to lift weights!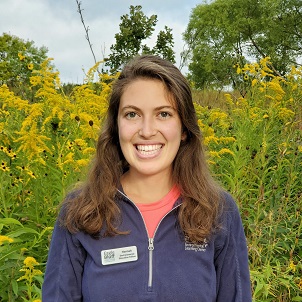 Hannah Hoffman
Environmental Education Fellow
Email: hannahh@eaglebluffmn.org
Hannah, a Massachusetts native, graduated in May from Macalester College. Inspired by the outdoors at a young age, Hannah graduated with a degree in Environmental Studies and Psychology and fell in love with Eagle Bluff after a field trip with a class in her senior year of college. When she's not teaching, Hannah loves to hike and explore the surrounding area, rock climb, and cook. If you listen closely, you can usually tell when Hannah is near by the loud and constant singing!
Fun fact: Hannah figure skated for 8 years.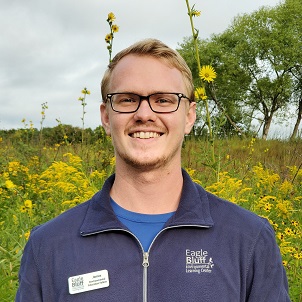 James Schuchard
Environmental Education Fellow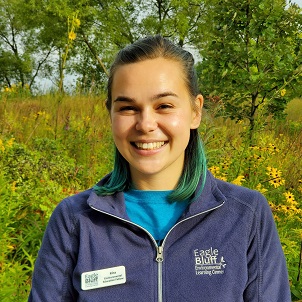 Kira Church
Environmental Education Fellow
Email: kirac@eaglebluffmn.org
Kira recently graduated from the University of Wisconsin- Milwaukee in 2018. After recieving her degree in Environmental Science she returned home to Minnesota to start working at Eagle Bluff as an Environmental Education Fellow. In her free time she loves to garden, swim in lakes, and go for hikes. She is especially interested in composting and soil.
Fun Fact: Kira likes to dye her hair green!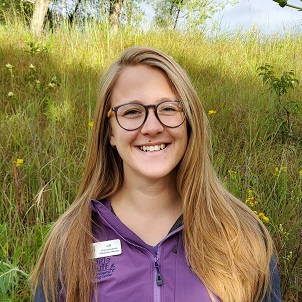 Gill Schumm
Environmental Education Mentor
Email: gills@eaglebluffmn.org
After graduating from St. Olaf College, Gill spent a couple of years working seasonal field research jobs around the country before realizing she needed more human contact than that lifestyle provided. Gill has been an environmental educator with a number of organizations in Iowa, her home state, but has fallen in love with southeastern Minnesota. In her free time you can find her cooking, petting dogs, out on a walk, or eating wild berries.
Fun fact: Gill finds old episodes of Forensic Files comforting and falls asleep to them most nights.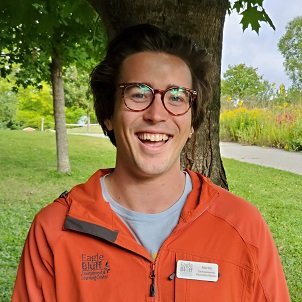 Martin Moore
Environmental Education Mentor
Email: martinm@eaglebluffmn.org
Martin grew up in the small town of Montevideo, MN and attended school at Macalester College in Saint Paul. He completed the Fellowship program in 2019 and is staying on at Eagle Bluff for another year as an Environmental Education Mentor.
Fun Fact: When not teaching classes Martin can be found playing music, especially the black keys.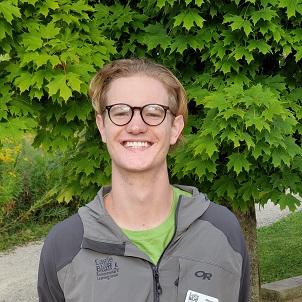 Mason Keel
Environmental Education Mentor
Email: masonk@eaglebluffmn.org
Mason spent his childhood living around the globe and in various states in the US but now considers Minnesota his home. Following his graduation from Lafayette College in Easton, PA in 2018, his acceptance into the Fellowship Program at Eagle Bluff is what ultimately led him to the beautiful Driftless Region. A summer spent working for the Conservation Corps in the Northwoods also contributed to his desire to return to the Land of 10,000 Lakes. You'll most likely find Mason playing pickle ball in Lanesboro on warmer days or scaling  EB's climbing wall on colder ones.
Fun fact: at 6'5″ tall, Mason is the 2nd tallest staff member at Eagle Bluff.
Board of Directors
Ian Scheerer
President
Red Wing, MN
Katie Halvorson
Vice-President
Winona, MN
Susan Benysh
Secretary
Rochester, MN
Darrin Herrara
Treasurer
Rochester, MN
John Broadwater
Winona, MN
Charlie Brown
Bay City, WI
Dave Hansen
Rochester, MN
Richard Nethercut
Canton, MN
Dennis Schreiber
Rochester, MN
Mike Rapatz
Minneapolis, MN
Jessica Schuler
Farmington, MN
Bethany Krom
Lanesboro, MN
Natasha Yates
Red Wing, MN
Jessica Voss-Kehl
Inver Grove Heights, MN
Austin Bauer
Northfield, MN