Environmental Education Fellowship
Hone your talents. Improve your skills. Learn from professionals.
Leave your mark as a participant in our experiential environmental educator training program! Spend a year facilitating experiences for students while you develop teaching and public relations skills as an outdoor educator. A year filled with curiosity, confidence-building, and outdoor adventure. Fellows have the option to earn an Environmental Education Certificate that will prepare you for success in the field of environmental education.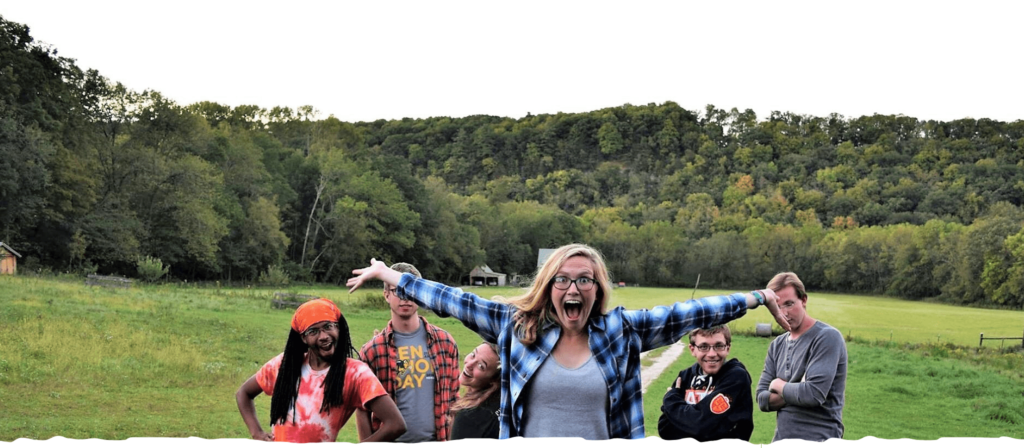 Fellow Roles & Responsibilities
Make a difference and develop as a professional! Fellows wear many hats, including teacher, host, student, camp counselor, community member & more. All in scenic Lanesboro, MN.
Teacher
As their primary responsibility, fellows can expect to spend two-thirds of their time teaching classes that are centered around hands-on, experiential, and inquiry-based learning using the BEETLES teaching methods. They get experience teaching a diversity of students from all around Minnesota, Wisconsin, and Iowa with a large variety of backgrounds and perspectives.  Classes are typically three hours long and include subjects such as environmental science, natural history, challenge skills, and outdoor adventure. Additionally, fellows present a one-hour "naturalist program" to large groups in the evenings about twice a month.
Host/Liaison
When groups visit Eagle Bluff, Fellows serve as the primary Eagle Bluff representative.  This primarily public relations-oriented role involves coordinating the group's schedule and cultivating personal connections with the students, chaperones, and teachers.  Liaising includes a variety of responsibilities from welcoming the group to Eagle Bluff, setting up evening activities, leading conservation challenges, and much more. In addition, the liaison remains on call throughout the nights when their group is in residence.
Student
The fellowship community also serves as a graduate seminar cohort as fellows participate in  intensive training, graduate seminars, and one-on-one teaching observations throughout the year.  Seminar topics include courses in the teaching techniques, natural history, program development, and interpretation.  You can opt to earn credits (up to 10) towards a graduate certification in Environmental Education from Hamline University and to complete the Certified Interpretive Guide training through the National Association for Interpretation.  The seminars and training compliment the hands-on teaching experience and help fellows develop their skills as environmental educators.
Camp Counselor
Fellows make the switch to camp counselors come June to run three to four of our 16 summer programs. Camps are overnight and typically a week long with an educational focus. From rock climbing to hunting to animal care, these adventurous and unique experiences are for campers entering grades 4-12.  Fellows get to create the experience by planning and leading a couple camps each summer.
Community Member
Through training, working, living, and growing alongside your fellowship group, this program places you in a tight-knit community. As a small nonprofit about 50 minutes from the nearest 'big' city, we have a small permanent staff that is excited to support you and welcome you to our team as well!
Learn more about the fellowship
Who is this Fellowship for?

Recent college graduates who want to develop their skills in teaching techniques including culturally sustaining pedagogy, public speaking, group management, and generally grow as a professional. You don't need to go into environmental education to gain valuable skills through this fellowship!
Training and Coursework

Initial Training

The start of the program is spent in three weeks of intensive training covering teaching classes, facilitating evening activities, being a liaison, learning about SE Minnesota, and getting to know the general functions of Eagle Bluff. Fellows receive an established lesson plan for each class that they teach. Additional class trainings are scheduled throughout the year.

Seminars

Weekly seminars on Teaching Techniques, Interpretation Program Planning, and Natural History are conducted by Eagle Bluff staff and outside experts. Fellows can choose to have these seminars earn credits towards the Graduate Certificate of Environmental Education through Hamline University.
Certifications

Certificate of Environmental Education

Fellows may elect to take seminars for credit to earn an Environmental Education certificate at a reduced rate through Hamline University. The cost for earning the full certificate (10 credits) is approximately $2,750.

Seminars and credits include the following:

Fundamentals of Environmental Education (3 credits)
Natural History of Southeast Minnesota (3 credits)
Principles of Interpretation (2 credits)
Program Development (2 credits)

Certified Interpretive Guide

Fellows may also choose to become a Certified Interpretive Guide (CIG) through the National Association for Interpretation (NAI). The CIG training also counts toward to the EE Certificate (Principles of Interpretation). The cost for earning the CIG certificate is approximately $150.
Professional Support

Evaluations

Fellows are formally evaluated through class observations by permanent education staff several times throughout the year. Feedback is constructive, specific, and includes a follow-up meeting with the evaluator. Fellows also participate in self-evaluations, peer observations, and observation of permanent education staff. Additional feedback about job responsibilities is also collected from visiting teachers and chaperones.

Monthly Meetings

Monthly meetings are held with one or both fellowship managers. The goals of the meetings are to support fellows in their professional development by setting goals, providing feedback, and proactively addressing any needs the Fellow has.
Compensation and Housing

Stipend and Amenities

Participants receive an $1,000/month stipend for living expenses and to use towards the cost of certifications. As additional compensation, housing is provided and meals are offered in the dining hall when visiting groups are in residence. Food staples are provided for use in the staff kitchen. In addition, we offer paid sick time and vacation days. Wi-Fi, free laundry, staff gear, and use of Eagle Bluff's recreational equipment.

Housing

Fellows live in a private wing of the dormitory. Bedrooms are private with a bathroom/suite shared with one other person. Each room has a mattress and bed, desk, chair, lamp, and storage area. Fellows share a common living room, dining room, kitchen, and storage/work-out room. The kitchen is stocked with appliances, dishes, refrigerator, freezer, and dry food storage.
After the Fellowship

Upon completion of the program, fellows may apply for a second year at Eagle Bluff. A second year gives the opportunity to further their study and practice of teaching and take on projects aligning with specific passions within Eagle Bluff.

Where are they now?

Many fellows go on to continue their career in education, whether continuing on as an environmental educator or becoming a naturalist at a state park, a teacher for a school, or continuing their graduate studies. Other fellows have gone on to do conservation work, stay in the environmental field, or pursue careers in unrelated fields.

Past fellows have graduated to go on to the following positions:

Environmental Educator, NatureBridge Yosemite
Outdoor Education Coordinator, Prescott Pines Camp
Environmental Education Specialist, City of Rochester
Farm Director, Camp Burgess & Hayward
Education Director, Eagle Bluff ELC
Teacher, City of Lakes Waldorf School
Expedition Guide, UnCruise Adventures
Biology/Forensic Science Teacher, Island Coast High School
Co-Director, Endless Trails
Director, 10Fold Communications
Assistant Principal, Monterey Adult School
Development Director, Eagle Bluff ELC
Qualifications

Candidates must meet the following qualifications in order to be accepted into the fellowship program:

B.A. or B.S. degree, related field preferred
Experience and enjoyment working with children
High level of self-motivation and enthusiasm; an eagerness and willingness to learn
Comfortable in moving water and able to hike up and down hills on uneven terrain
Willing to operate and participate in high ropes courses and rock climbing wall
Ability to live on-site in a dormitory setting
Current CPR and Standard First Aid certification
Related experience as a naturalist, interpreter, camp counselor, trip leader, or other leadership roles is preferred but not required
Meet the fellowship staff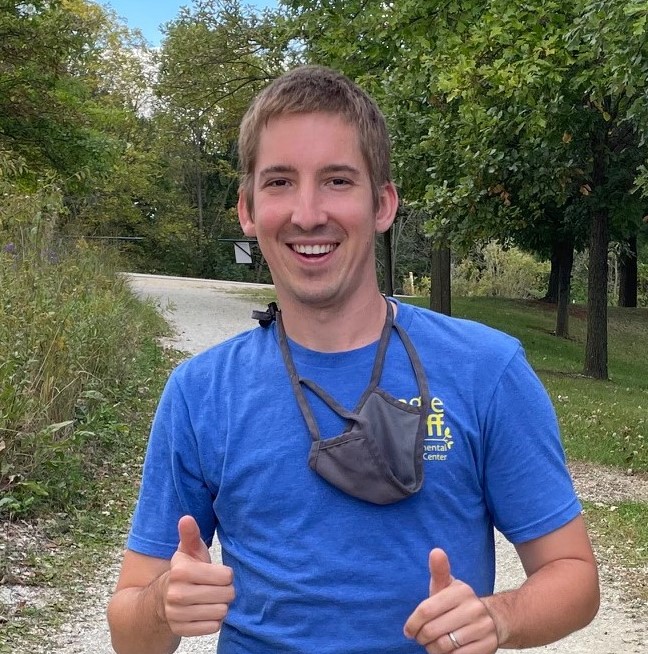 Brent Burton
Fellowship Co-Manager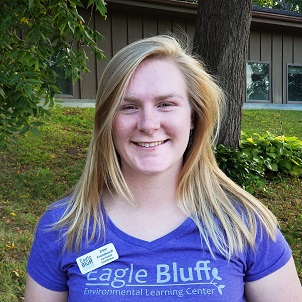 Erinn Kronebusch
Outdoor School Manager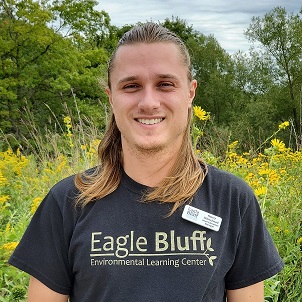 Henry Whitehead
Fellowship Co-Manager
Apply Now
Eagle Bluff works with students from all over the region with a variety of racial, ethnic, economic, and social backgrounds.  By recruiting and hiring fellows from a wide variety of backgrounds, we can provide a more accessible learning environment.
Those who come from backgrounds and identities that are underrepresented in environmental education are especially encouraged to apply.
Check back soon for 2024-2025!