Environmental Education Fellowship
Leave your mark as a participant in our environmental education fellowship program! Spend a year facilitating experiences for students while you develop teaching and public relations skills as an outdoor educator.
Hone your talents. Improve your skills. Learn from professionals.
Join us for a year of curiosity, confidence-building, and outdoor adventure. Fellows have the option to earn an Environmental Education Certificate that will prepare you for success in the field of environmental education.
All positions for the upcoming 2020-2021 Eagle Bluff Fellowship are filled at this time. If you would like to submit an application and join a waitlist you can do so:
Fellow Roles & Responsibilities
Initial Training
The start of the program is spent in three weeks of intensive training covering teaching classes, facilitating evening activities, being a liaison, learning about SE Minnesota, and getting to know the general functions of Eagle Bluff. Fellows receive an established lesson plan for each class that they teach. Additional class trainings are scheduled throughout the year.
Seminars
Weekly seminars on Teaching Techniques, Interpretation Program Planning, and Natural History are conducted by Eagle Bluff staff and outside experts. Fellows can choose to have these seminars earn credits towards the Graduate Certificate of Environmental Education through Hamline University.
Certificate of Environmental Education
Fellows may elect to take seminars for credit to earn an Environmental Education certificate at a reduced rate through Hamline University. The cost for earning the full certificate (10 credits) is approximately $1,850.
Seminars and credits include the following:
Fundamentals of Environmental Education (3 credits)
Natural History of Southeast Minnesota (3 credits)
Principles of Interpretation (2 credits)
Program Development (2 credits)
Certified Interpretive Guide
Fellows may also choose to become a Certified Interpretive Guide (CIG) through the National Association for Interpretation (NAI). The CIG training also counts toward to the EE Certificate (Principles of Interpretation). The cost for earning the CIG certificate is approximately $150.
Evaluations
Fellows are formally evaluated through class observations by permanent education staff several times throughout the year. Feedback is constructive, specific, and includes a follow-up meeting with the evaluator. Fellows also participate in self-evaluations, peer observations, and observation of permanent education staff. Additional feedback about job responsibilities is also collected from visiting teachers and chaperones.
Monthly Meetings
Monthly meetings are held with one or both fellowship managers. The goals of the meetings are to support fellows in their professional development by setting goals, providing feedback, and proactively addressing any needs the Fellow has.
Stipend and Amenities
Participants receive an $850/month stipend for living expenses and to use towards the cost of certifications. As additional compensation, housing is provided and meals are offered in the dining hall when visiting groups are in residence. Food staples are provided for use in the staff kitchen. In addition, we offer paid sick time and vacation days. Wi-Fi, free laundry, staff gear, and use of Eagle Bluff's recreational equipment.
Housing
Fellows live in a private wing of the dormitory. Bedrooms are private with a bathroom/suite shared with one other person. Each room has a mattress and bed, desk, chair, lamp, and storage area. Fellows share a common living room, dining room, kitchen, and storage/work-out room. The kitchen is stocked with appliances, dishes, refrigerator, freezer, and dry food storage.
Upon completion of the program, fellows may apply for a second year at Eagle Bluff. A second year gives the opportunity to further their study and practice of teaching and take on projects aligning with specific passions within Eagle Bluff.
Where are they now?
Many fellows go on to continue their career in education, whether continuing on as an environmental educator or becoming a naturalist at a state park, a teacher for a school, or continuing their graduate studies. Other fellows have gone on to do conservation work, stay in the environmental field, or pursue careers in unrelated fields.
Past fellows have graduated to go on to the following positions:
Environmental Educator, NatureBridge Yosemite
Outdoor Education Coordinator, Prescott Pines Camp
Environmental Education Specialist, City of Rochester
Farm Director, Camp Burgess & Hayward
Education Director, Eagle Bluff ELC
Teacher, City of Lakes Waldorf School
Expedition Guide, UnCruise Adventures
Biology/Forensic Science Teacher, Island Coast High School
Co-Director, Endless Trails
Director, 10Fold Communications
Assistant Principal, Monterey Adult School
Development Director, Eagle Bluff ELC
Candidates must meet the following qualifications in order to be accepted into the fellowship program:
B.A. or B.S. degree, related field preferred
Experience and enjoyment working with children
High level of self-motivation and enthusiasm; an eagerness and willingness to learn
Comfortable in moving water and able to hike up and down hills on uneven terrain
Willing to operate and participate in high ropes courses and rock climbing wall
Ability to live on-site in a dormitory setting
Current CPR and Standard First Aid certification
Related experience as a naturalist, interpreter, camp counselor, trip leader, or other leadership roles is preferred but not required
Meet the Fellowship Staff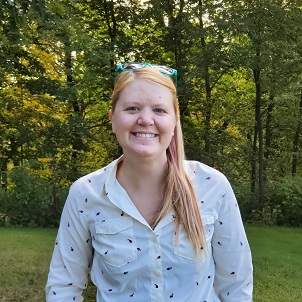 Jenna Moon
Acting Education Director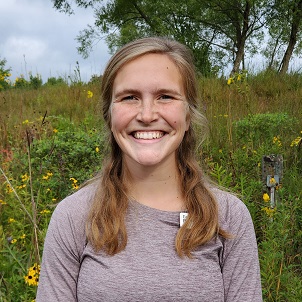 Erica Hall
Fellowship Co-Manager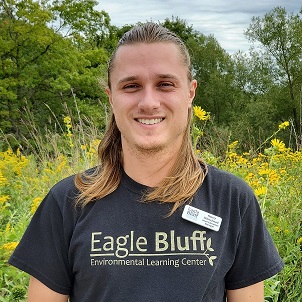 Henry Whitehead
Fellowship Co-Manager