Wildlife Education & Public Outreach
Our Wildlife staff is dedicated to the care, training and educational programming of Eagle Bluff's wild animal ambassadors.
All of our animals either have permanent injuries or other attributes that prevent them from surviving in the wild and on their own. Nevertheless, they are still wild animals, and as such, we never treat them like pets. Some birds have lived here for over ten years, and others have only recently arrived. They all have the important job of educating our visitors about conservation!
Meet Our Animal Ambassadors
Our wild animals are a core part of our educational programming and can even be brought to you through our public outreach programming to teach outside groups about wildlife conservation. Eagle Bluff utilizes four non-releasable birds of prey, as well as a skunk, 6 snakes, a turtle, and other reptiles and amphibians, to teach audiences about wild animals and their ecological roles. They convey their message to over 10,000 people each year!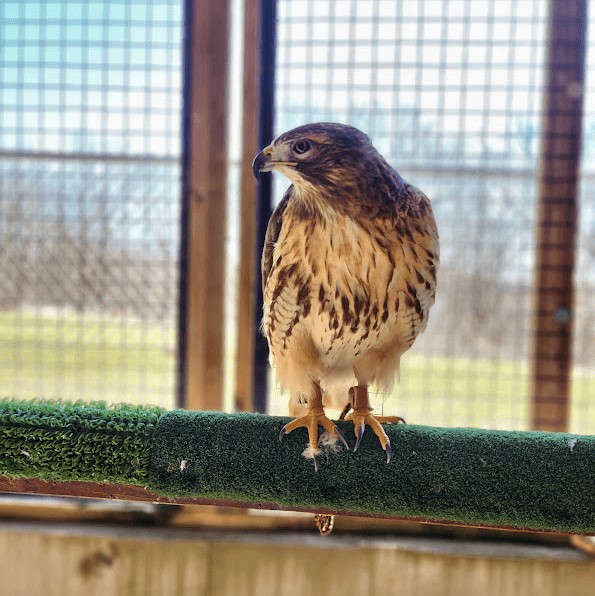 Red-Tailed Hawk
Learn more about our Red-Tailed Hawk

Age: 22 years old

History: She was found in a suburb of Chicago in the fall of 2000 near a road unable to fly. The tip of her left wing was damaged beyond repair and it was amputated to prevent chronic pain. Due to her injury, she can't sustain flight, and therefore was non-releasable and came to live at Eagle Bluff.

Favorite Food: Rat heads

Fun Fact: She sometimes catches mice in her enclosure!

Trainer Tidbit: The Hawk is trained to fly from a perch to her handler's glove.
Striped Skunk
Learn more about our Striped Skunk

Age: 4

History: We got out striped skunk, aka "Niffler", from a breeder when she was a baby. Wild-born skunks that are non-releasable never really become comfortable around people like the captive-born skunks so we chose to go with a breeder. Using a breeder also allowed us to know for certain that she didn't have any long-lasting injuries that would impact her quality of life.

Favorite Food: Dog food or strawberries.

Fun Fact: LOVES to sniff around, so goes outside for walks in the garden.

Trainer Tidbit: Niffler's trainers are working on getting her to put her front paws onto a box so they can easily trim her nails.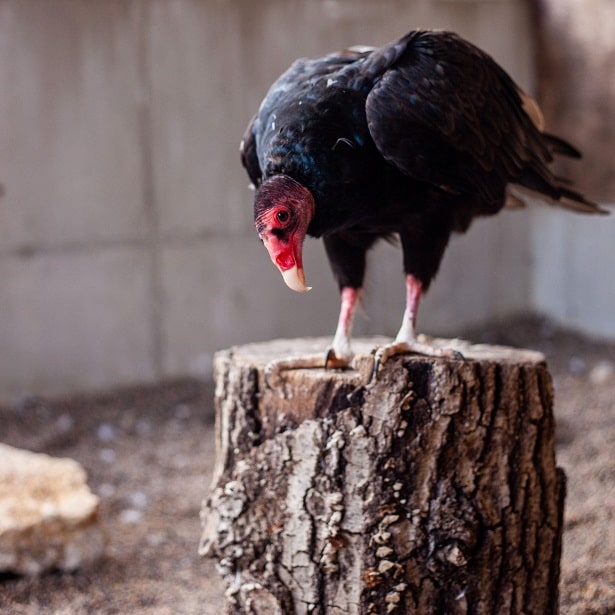 Turkey Vulture
Learn more about our Turkey Vulture

Age: 19 years old

History: He was found on the ground in California in 2003. (Turkey Vultures nest on the ground). The people who found him were worried that there was something wrong with him and he was brought into a rehab center. He mis-imprinted on people instead of imprinting on Turkey Vultures because of this he is too comfortable with people and couldn't be released. He lived at a facility in Oklahoma for 8 years before coming to live at Eagle Bluff.

Favorite Food: Anything he can shred!

Fun Fact: The Turkey Vulture always gets his food in a toy to keep his brain working!

Trainer Tidbit: The Turkey Vulture is great at flying and we often use him to help train campers on raptor handling during our wildlife camps.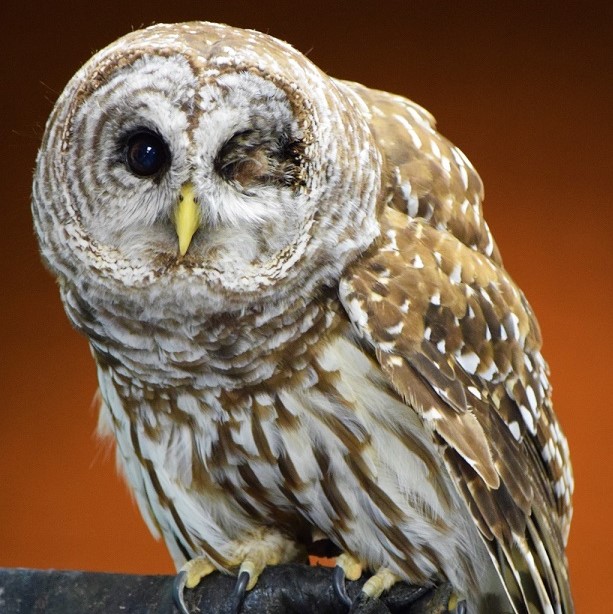 Barred Owl
Learn more about our Barred Owl

Age: at least 21 years old

History: Struck by a vehicle in a suburb of Chicago, IL in December of 2001. She had a broken right wing and blindness in her left eye which eventually had to be removed for her comfort. She retired from programs within the last few years and gets to live here and get food without having to work!

Favorite Food: Mice

Fun Fact: The Barred Owl likes to shred things, and will shred the feathers that she molts!

Trainer Tidbit: The Barred Owl is retired from programs and training.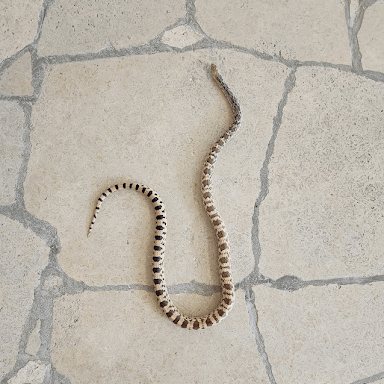 Bullsnake
Learn more about our Bullsnake

Age: ~4 years old

History: The Bullsnake was someone's pet that they no longer wanted to keep so they offered it to Eagle Bluff.

Favorite Food: Medium-sized rats

Fun Fact: The bullsnake will often burrow in his enclosure and sometimes people think he escaped because he is buried under his soil.

Trainer Tidbit: Nox is our newest raptor and is still undergoing a lot of training with our wildlife coordinator – he is really great at flying to his scale to get weighed.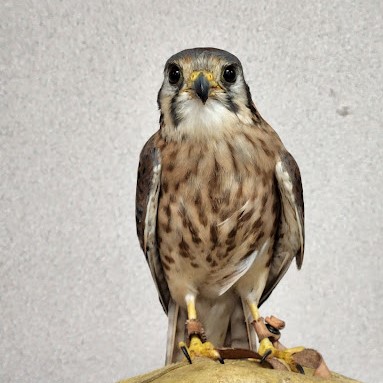 American Kestrel
Learn more about our American Kestrel

Age: 2 years old

History: Our American Kestrel, aka "Flick", was found in July of 2020 on the ground with a drooping left wing, had a broken bone in her wing that didn't heal properly. Because of her injuries, she is non-releasable due to insufficient flight.We know she is a female because of her coloration: females have the tan keel with brown spots and rust-colored wings.

Favorite Food: Quail wings

Fun Fact: Flick often takes baths in her bath pan – our animal care staff sometimes notice that she is soaking wet when they work with her.

Trainer Tidbit: Her trainers are working with her on "cooperative care" behaviors which will make it easier and more comfortable for her to get health checks.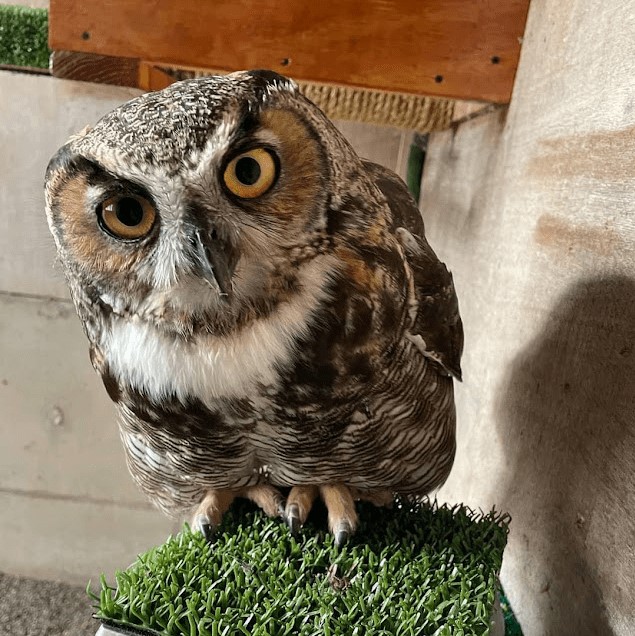 Great Horned Owl
Learn more about our Great Horned Owl

Age: ~3 years old

History: Our great hordned owl, aka "Nox", was found in Maryland with an eye injury. Nox has eye damage to both eyes, and is completely blind in his right eye. Specifically, he has optic nerve damage to his right eye and retinal damage in his left eye.

Favorite Food: Chicks

Fun Fact: Is small in size compared to most Great-Horned Owls. We believe he is a male because of this.

Trainer Tidbit: Nox is our newest raptor and is still undergoing a lot of training with our wildlife coordinator – he is really great at flying to his scale to get weighed.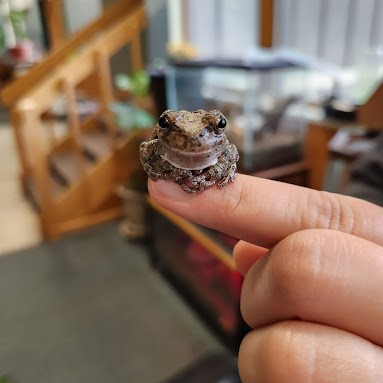 Gray Tree Frog(s)
Learn more about our Gray Tree Frog(s)

History: The Gray Tree Frogs at Eagle Bluff were found around campus. We have a special permit which allows us to keep them for educational purposes.

Favorite Food: Crickets

Fun Fact: We can tell them apart because one is bigger than the other one. They also can change their color ranging from grey-ish brown to vivid green!
What do the birds eat?

Because the birds are all carnivores, we feed them a diet that consists of different meats. The five main foods that our birds eat are mice, small rats, large rats, quail, and day-old chicks. Occasionally, they are also given rabbit and squirrel. We order our food from different vendors, and it arrives already dead and frozen. Eagle Bluff staff are trained on how to prepare the food. Our five birds eat a total of 1,300 rodents and birds each year. Imagine how much food all of the wild raptors eat in one year!
Where do the birds live?

Eagle Bluff's birds live in enclosures called mews. Each bird's mew is designed to offer enough space for that bird to be able to fly around and look outside. Each mew also has a place the birds can go to avoid the rain, wind, and snow. The birds all have different types of perches to visit and explore. Because the birds spend most of their time in their mews, Eagle Bluff staff makes sure that everything stays in good condition. Safe perches help keep the birds healthy!
Do the birds get bored?

Because the birds spend much of their time in their mews, they can get bored if their handlers don't provide enough for them to do all day long. That's why the staff prepare enrichment plans for the birds each week. Enrichment might be training with a handler, going on a walk outside, a new food in their diet, or placing food into items such as dog toys or egg cartons. Without enrichment, birds can be quite destructive, both to their environments and themselves but by providing enrichment, their minds stay sharp and their bodies active.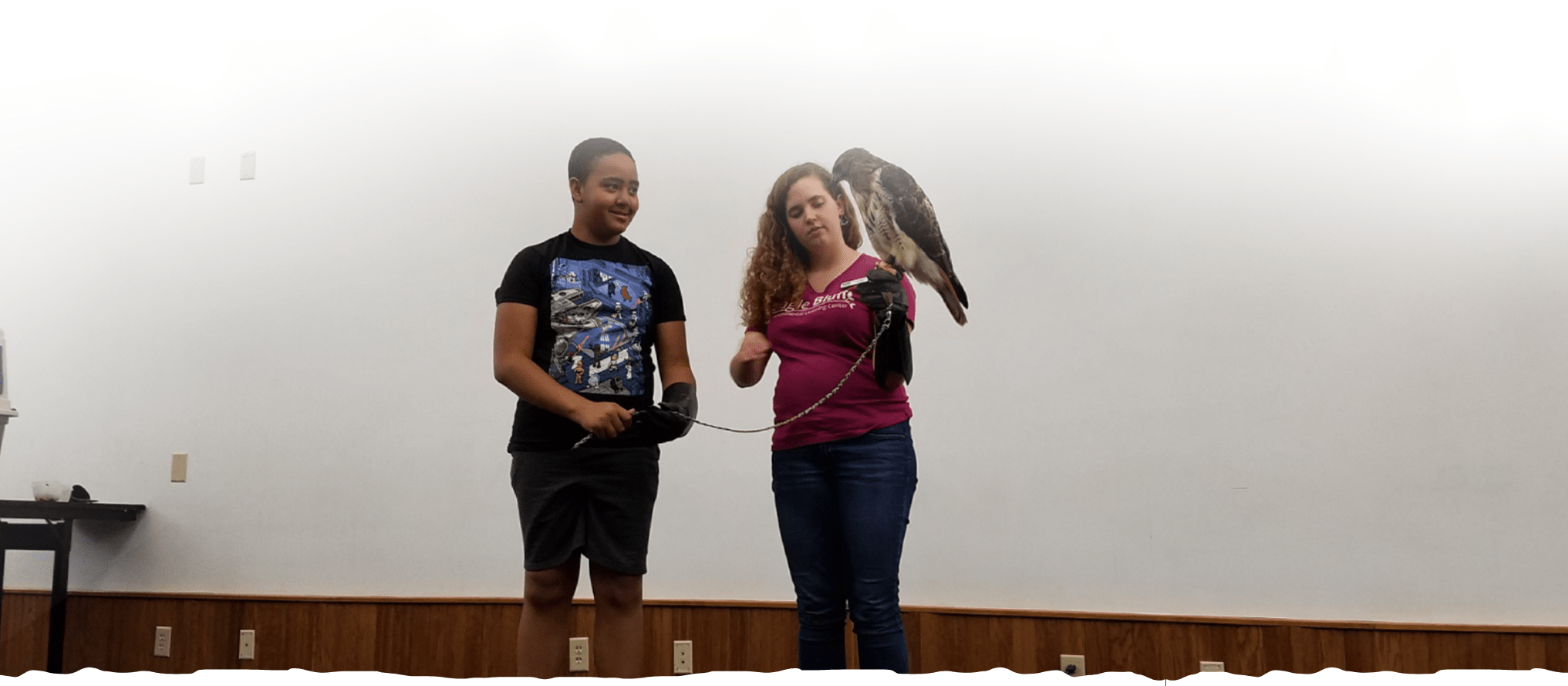 Public Outreach Programs
Let us bring our programming to you! Choose between our Starlab Planetarium or Live Animals on the Road programs (or both). Our staff will conduct this interactive, educational programming at your site.
Outreach cost: One hour program: $250 plus mileage (at IRS mileage rate) for locations over 30 miles away. Each additional program is $125 (same day, same location.)
Live Animals on the Road
We'll bring our live animals for interactive learning designed to meet your needs with a focus on environmental awareness. Your audience will get the unforgettable experience of seeing live animals up close! For up to 250 people.
Schedule a Live Animals on the Road experience
Starlab Planetarium
STARLAB is an inflatable planetarium showcasing 3,000 stars, as well as the constellations made of them.  Whether it's telling the stories behind the stars or focusing on the stars of the seasons, multiple themes are offered. For up to 50 people.
*Starlab requires a ceiling height of at least 14′ and a 30′ x 30′ floor space.
Schedule a Starlab experience
Contact us to schedule an Outreach Program
You may also call and talk with our outreach coordinator at 507-467-2437.