Wildlife Care & Public Outreach
Wildlife Care & Education
Our Wildlife staff is dedicated to the care, training and educational programming of Eagle Bluff's wild animal ambassadors. Our wild animals are a core part of our educational programming and can even be brought to you through our public outreach programming to teach outside groups about wildlife conservation.
All of our animals either have permanent injuries or other attributes that prevent them from surviving in the wild and on their own. Nevertheless, they are still wild animals, and as such, we never treat them like pets. Some birds have lived here for over ten years, and others have only recently arrived. They all have the important job of educating our visitors about conservation!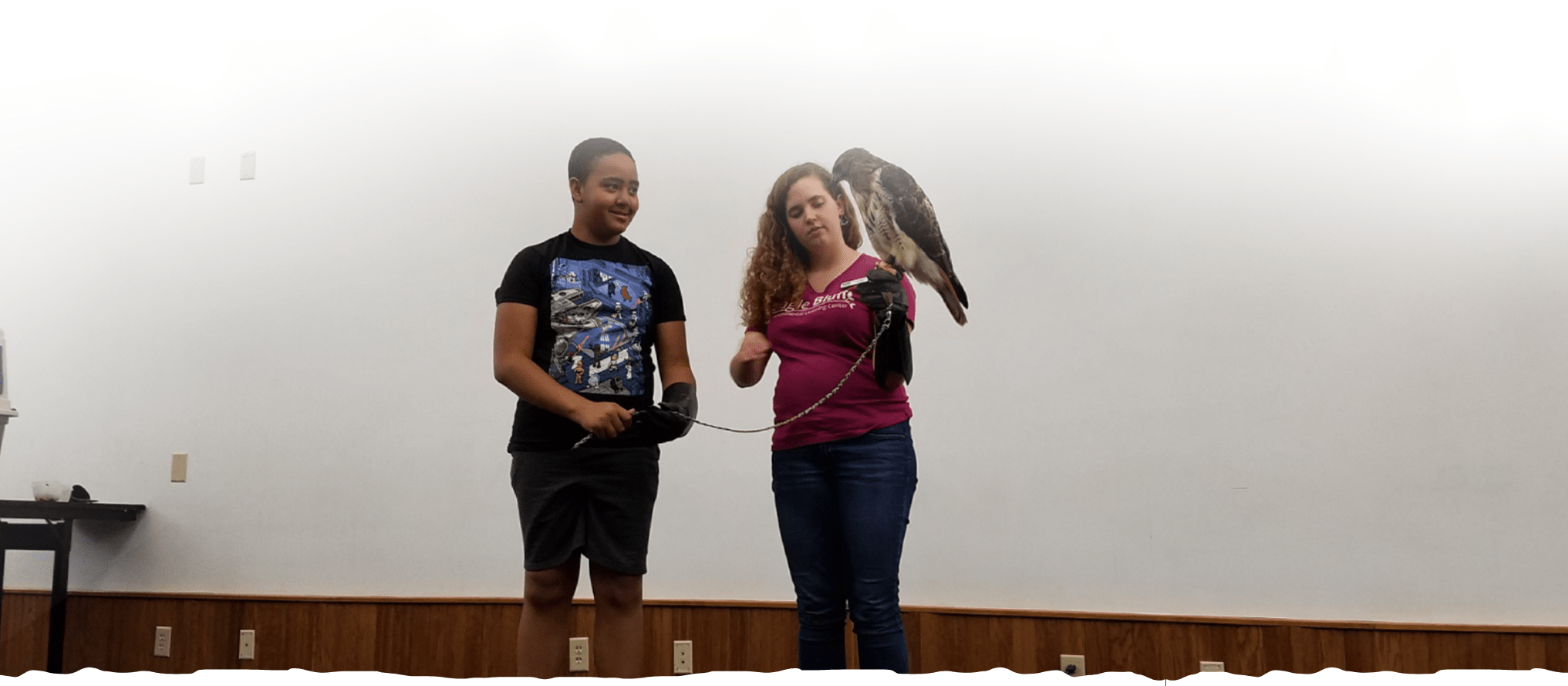 Meet Our Animals
Eagle Bluff utilizes four non-releasable birds of prey, as well as a skunk, 6 snakes, a turtle, and other reptiles and amphibians, to teach audiences about wild animals and their ecological roles. They convey their message to over 10,000 people each year!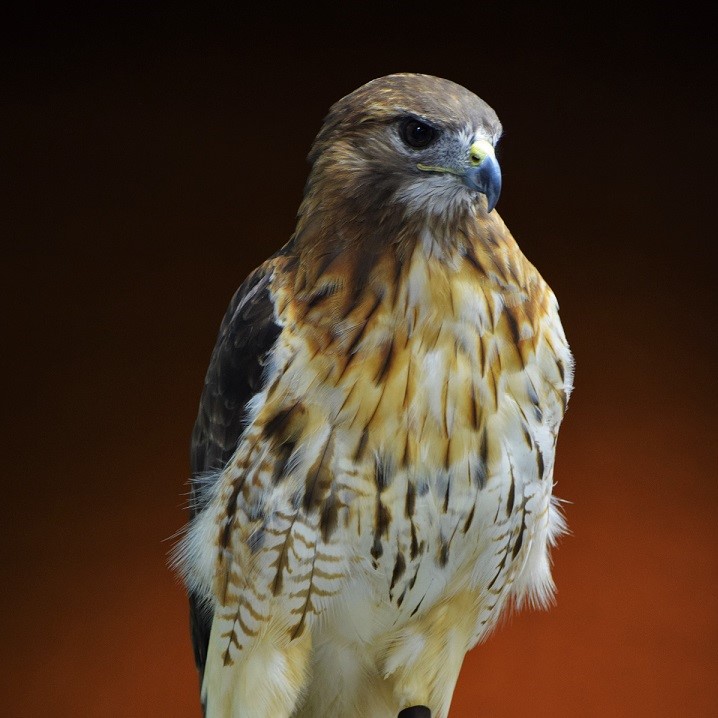 Red-Tailed Hawk
Favorite Food: Rodent Heads
The Red-Tailed Hawk was our first education bird. She was hatched in the spring on 2000. During her first year, the hawk was hit by a car near Chicago, Illinois. Because the tip of her wing was too damaged, they amputated it, making full flight impossible. The Red-Tailed Hawk arrived at here at Eagle Bluff in March 2001.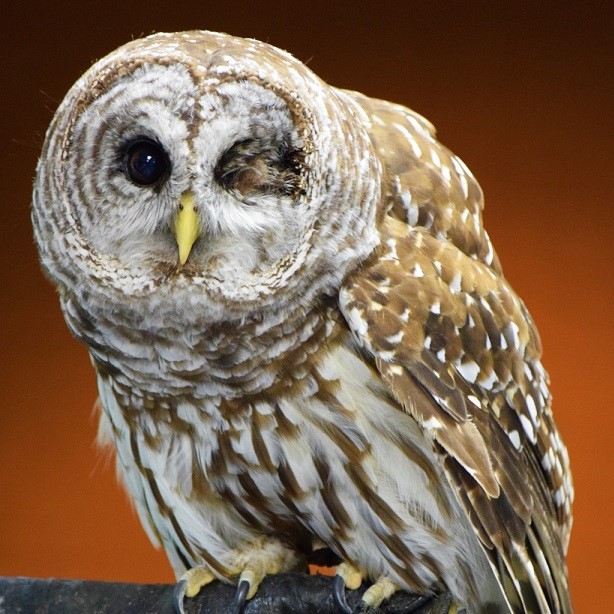 Barred Owl
Favorite Food: Small Rats
Our resident Barred Owl was hit by a car in December 2001 near Chicago, Illinois. The impact broke her right wing in several places. She also suffered head trauma, leaving her mostly blind in her left eye. She arrived here at Eagle Bluff in January 2003.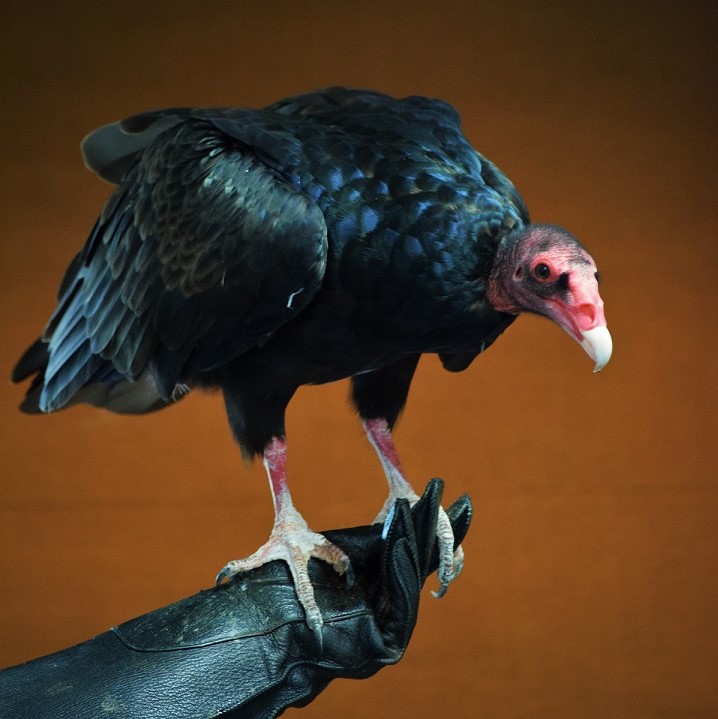 Turkey Vulture
Favorite Food: Rat Tails
Our Turkey Vulture hatched in the spring of 2003. He was found by a person who thought he was abandoned, so they brought the vulture home with them to care for. Unfortunately, this caused the vulture to imprint on humans, meaning he prefers the company of humans more than his own species. He joined our raptor team in August 2011.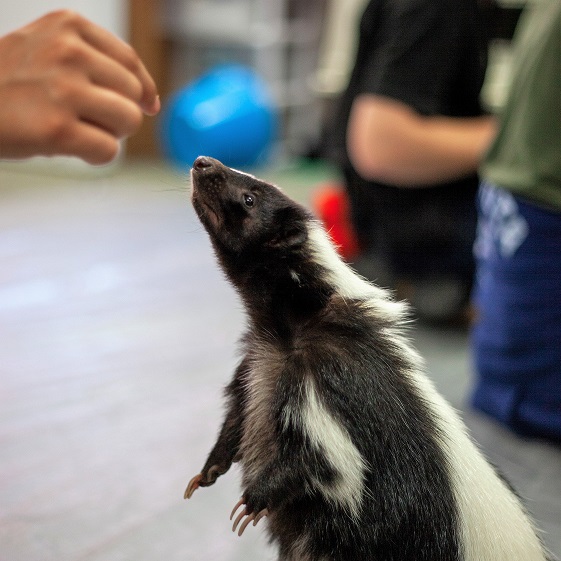 Striped Skunk
Favorite Food: Dog Kibbles
Our Striped Skunk came to Eagle Bluff in the fall of 2018 at 4 months old. She is the first mammal to join the animal education team. In order to ensure we were acquiring a healthy skunk, we went through USDA approved breeder based in Iowa. As of fall 2019, she has only been in a handful or programs, but we are hoping to increase her public appearances over the next school year.
What do the birds eat?

Because the birds are all carnivores, we feed them a diet that consists of different meats. The five main foods that our birds eat are mice, small rats, large rats, quail, and day-old chicks. Occasionally, they are also given rabbit and squirrel. We order our food from different vendors, and it arrives already dead and frozen. Eagle Bluff staff are trained on how to prepare the food. Our five birds eat a total of 1,300 rodents and birds each year. Imagine how much food all of the wild raptors eat in one year!
Where do the birds live?

Eagle Bluff's birds live in enclosures called mews. Each bird's mew is designed to offer enough space for that bird to be able to fly around and look outside. Each mew also has a place the birds can go to avoid the rain, wind, and snow. The birds all have different types of perches to visit and explore. Because the birds spend most of their time in their mews, Eagle Bluff staff makes sure that everything stays in good condition. Safe perches help keep the birds healthy!
Do the birds get bored?

Because the birds spend much of their time in their mews, they can get bored if their handlers don't provide enough for them to do all day long. That's why the staff prepare enrichment plans for the birds each week. Enrichment might be training with a handler, going on a walk outside, a new food in their diet, or placing food into items such as dog toys or egg cartons. Without enrichment, birds can be quite destructive, both to their environments and themselves but by providing enrichment, their minds stay sharp and their bodies active.
Live Animals on the Road
We'll bring our live animals for interactive learning designed to meet your needs with a focus on environmental awareness. Your audience will get the unforgettable experience of seeing live animals up close! For up to 250 people.
Starlab Planetarium
STARLAB is an inflatable planetarium showcasing 3,000 stars, as well as the constellations made of them.  Whether it's telling the stories behind the stars or focusing on the stars of the seasons, multiple themes are offered. For up to 50 people.
Outreach programs details & costs

One hour program: $250 plus mileage (at IRS mileage rate) for locations over 30 miles away.
Each additional program is $125 (same day, same location.)
Starlab requires a >14′ foot ceiling and a 30′ x 30′ floor space.
Contact us to schedule an Outreach Program
You may also call and talk with our outreach coordinator at 507-467-2437.