Corporate & Group Team Building Adventures
Work together to overcome challenges, accomplish goals, and bond as a group!
Team building adventures at Eagle Bluff are a great way for your group to learn more about each other and strengthen your bonds as a team – whether you're a new crew looking to get to know each other or a veteran group looking for an exciting out-of-office getaway.
Plan an Eagle Bluff team building adventure for your employee/corporate group, athletics team, school club, scout troop, or any group today!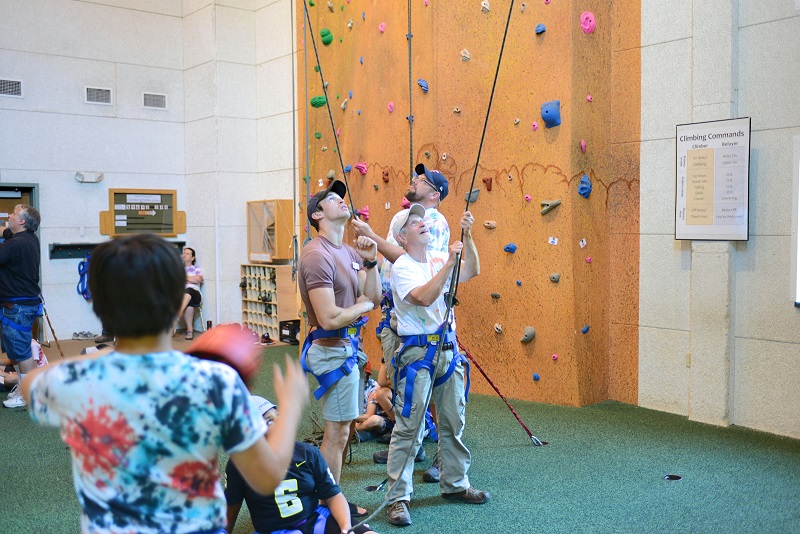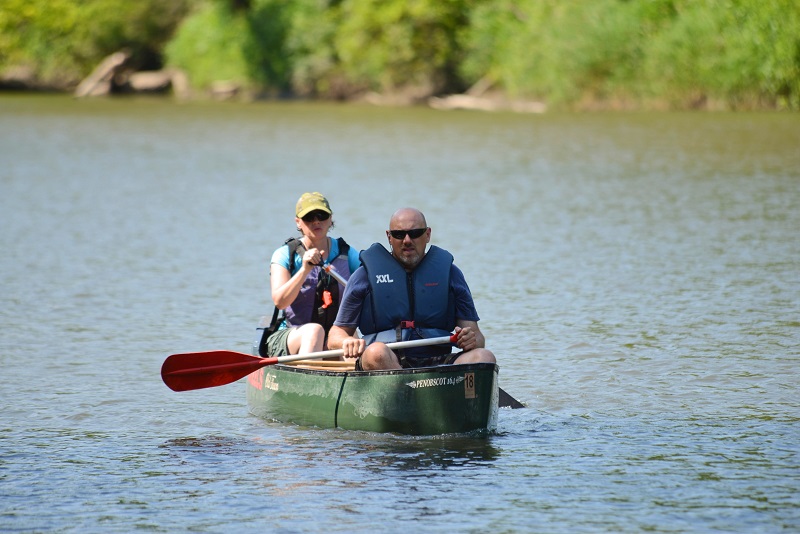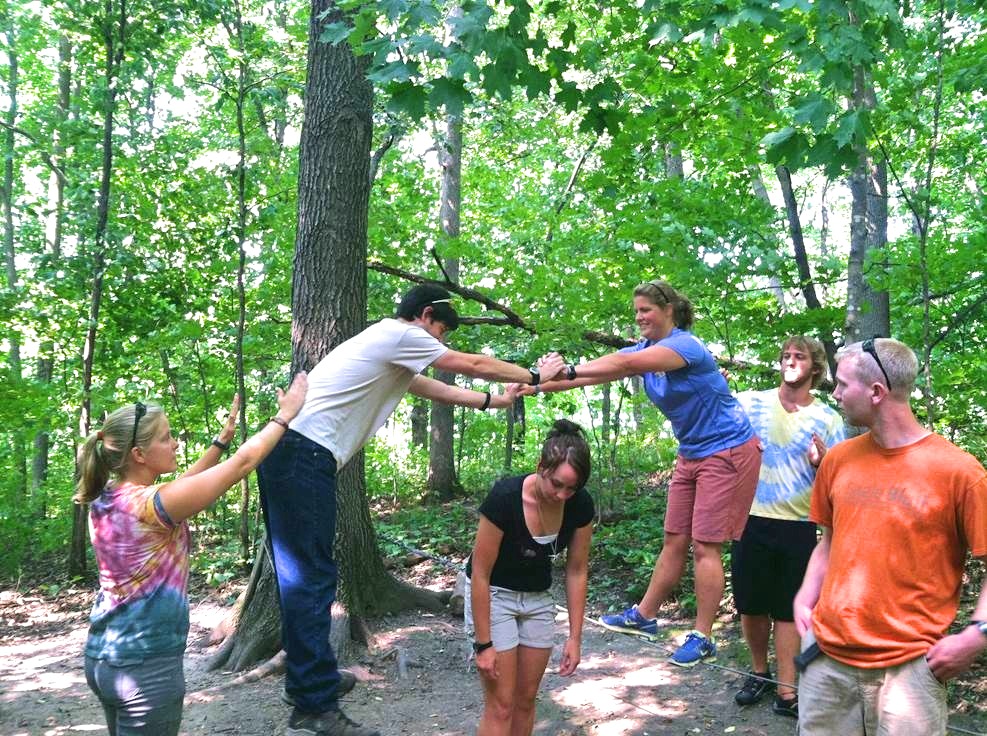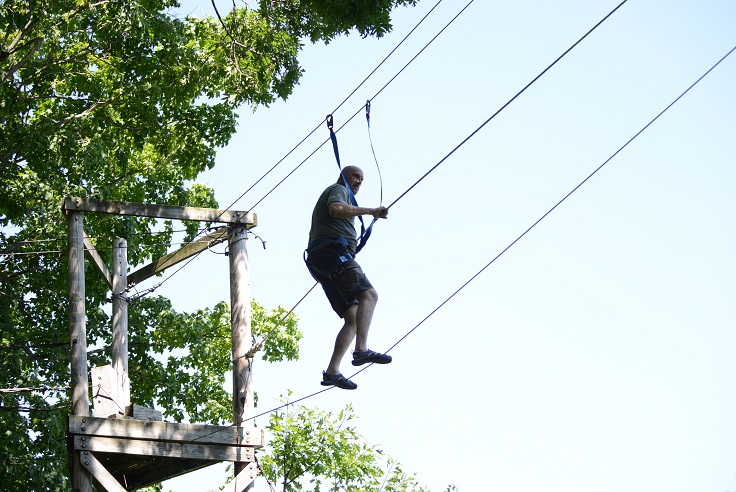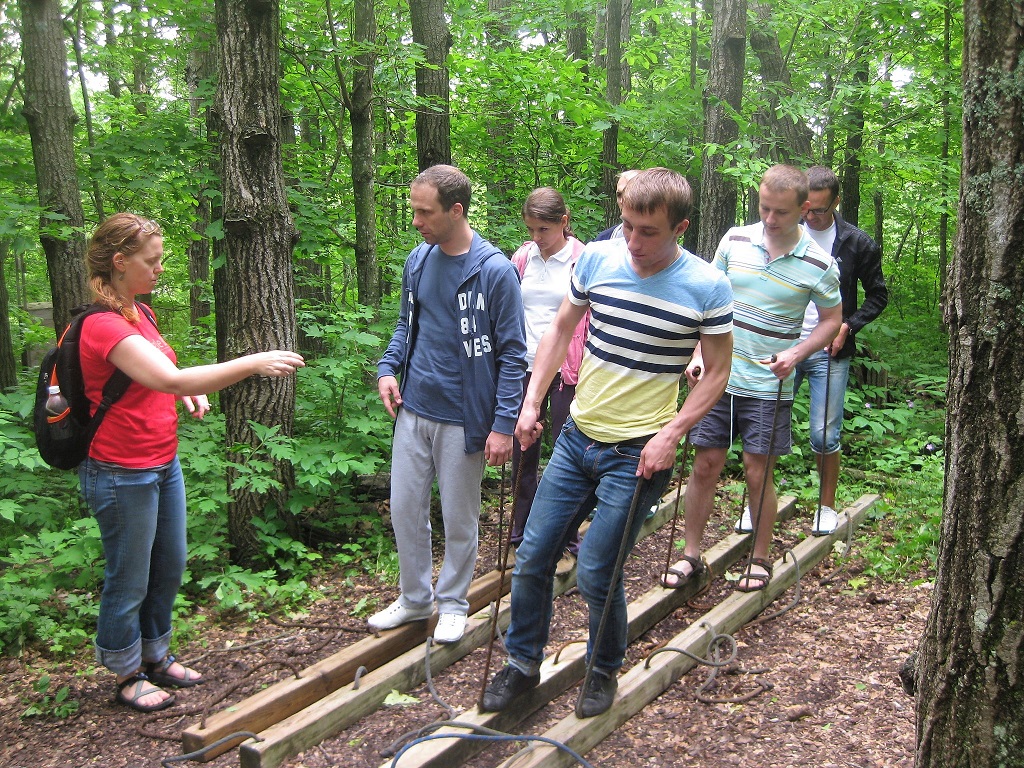 Team building adventure options
Sample Full-day Schedule:
8:45am: Arrival
9:00am-12:00pm: First activity
Noon: Lunch break
1:00pm-4:00pm: Second activity
4:15pm Depart
We offer half- or full-day custom packages with different activities to choose from! Offerings range from low to high physical activity and can be chosen according to the wishes of your group.
Team building activity offerings: (click to expand for activity description)
Level of physical activity:
♥ =Low (Minimal endurance/strength needed)
♥ ♥ =Medium (Few hills &/or moderate endurance/strength)
♥ ♥ ♥ =High (Steep Hills &/or endurance/strength needed)
Archery ♥

(1.5-3 hours)
Participants will discover the joy behind this long established sport. We'll guide your group through safe shooting practice then practice target shooting, engage in friendly competitions,
GPS Pathfinders ♥ ♥

(1.5-3 hours)
In this high-tech treasure hunt, teams will learn how to operate a GPS receiver and practice their navigation skills on an outdoor practice course. Once comfortable, the teams will tackle our larger GPS courses which are spread out along our campus. Groups will be able to choose either the Trivia or Murder Mystery course.
Group Challenges ♥ ♥

(2-3 hours)
Our most popular team building experience challenges groups to communicate, cooperate, problem solve, and trust while working towards a common goal. The class begins inside with some warm up activities to get the group thinking/acting as a unit and eventually progresses to our outdoor group challenge course which is a series of low wire and wooden elements.

Orienteering ♥ ♥

(1.5-3 hours)
Learn how to use a compass alongside a map to navigate our wooded orienteering course during this outdoor skill class. Teams will work together to find 8-10 control points on our unique orienteering course. (Please add a third heart so it corresponds to "steep hills and/or endurance/strength needed.
High Ropes Course ♥ ♥

(2-3 hours)
Maneuver 30 feet in the air through a series of towers connected by various cables, ropes, and log events before the final zipline ride. The course presents a safe atmosphere that encourages participants to recognize and confront their fears. Experiencing success on the course is a powerful experience with a lasting effect! At the end of class, the instructor will lead the group in an inclusive discussion debrief.
Rifle or Shotgun Range ♥ ♥

(3 hours)
This introductory level experience offers groups the opportunity to shoot .22 rifles or shotguns at our ranges. We'll begin with a thorough introduction to firearm safety followed by plenty of range time and coaching.
River Canoeing ♥ ♥ ♥

(3 hours):
Trained instructors will prepare paddlers for this adventure as they navigate 3.5 miles of the scenic waters of the Root River. Understanding the equipment, reading the river and its hazards, executing basic river paddling strokes, and following safety precautions will be essential for teams as they paddle on both slow and fast-moving water.
Rock Climbing ♥ ♥ ♥

(1.5-3 hours)
The indoor climbing wall is a venue that promotes personal growth, pride, and self-confidence. Participants will learn the fundamentals of rock climbing while striving to meet a climbing goal, challenge themselves, and face fears in a safe and controlled environment.
Snowshoeing or XC Skiing ♥ ♥

(1.5-3 hours)
Embrace MinneSNOWta by exploring Eagle Bluff's campus using snowshoes or skis. We'll give you the skills needed to have fun and adventure with your team.
Survival ♥

(2-3 hours)
Participants are placed in an imaginary survival situation to develop wilderness skills and understand the need for teamwork and a positive mental attitude for survival. Groups will test their survival competence by prioritizing a list of supplies, constructing a shelter, building a fire, conserving limited resources, and guarding against the elements. Are you a survivor?
Team Navigation ♥

(2-3 hours)
Improve your small group teamwork and learn the basics of orienteering in this team building class. The class begins with small group activities, followed by how to use a compass. Finally, combine these skills in a Grand Treasure Hunt!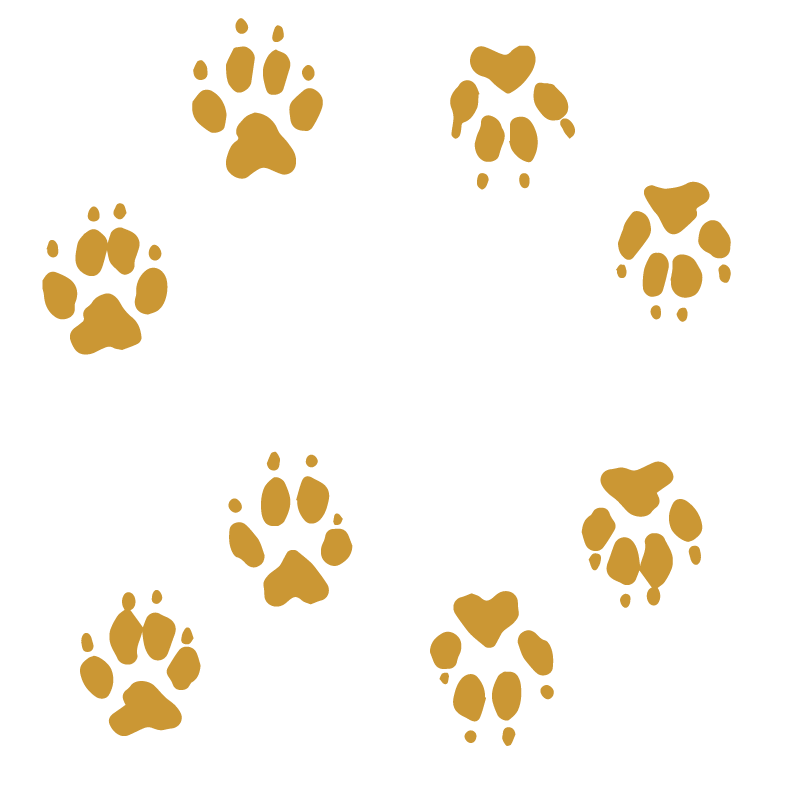 Youth & Adult Group Rates
1/2 day: $40 per person
Full day: $65 per person
Lunch (optional, as available): $7/person for youth groups, $12/person for adult groups
Get maximum value with a full day team building experience!
Ready to book your team building adventure at Eagle Bluff?
Contact our groups manager or fill out the form below to inquire about booking your team building experience! You can also reach us by phone at 507-467-2437.
Team building adventures at Eagle Bluff aim to:
Build relationships by providing opportunities for people to learn about each other in a fun environment.
Practice creativity and problem solving while learning a new skill or working together to achieve a goal.
Improve morale and leadership skills by identifying qualities and different styles of a leader
Strengthen communication by practicing verbal and non-verbal forms of communication
Have fun while experiencing new activities and connecting with each other in beautiful SE Minnesota!
Amidst the natural beauty of the scenic bluff country near Lanesboro, Minnesota, Eagle Bluff is located on over 250 acres of restored prairie and mixed hardwood forest and surrounded by hundreds of acres of state forest land. Our campus is the perfect destination for team building and leadership development for groups looking for an adventurous, outdoor-focused experience.
Our team of professional educators will work in partnership with your group leaders to design team building activities to meet the goals, needs, and desired activity/challenge level of your unique group. We have experienced staff who are committed to creating an outstanding adventure experience and meeting the individual needs of each member of your team.
Contact Us to Book Your Custom Team Building Experience
Work with our staff of professional educators and team building facilitators to design an experience that will meet the goals of your unique group.
Fill out the inquiry form to get in touch and start planning your group adventure. You may also call and talk with our groups scheduling manager at 507-467-2437.