For Parents
Important Forms & Materials 
"Pond life was fun. Correction. It was really fun! My group tried to catch a turtle, caught tadpoles with our bare hands, petted some frogs, and studied a damselfly under a microscope."
The K-12 Overnight Program & Your Child's Visit
Although commonly referred to as "camp", that's actually a misnomer. Eagle Bluff's Outdoor School is not a camp, but rather an accredited, special function outdoor school with a staff of licensed teachers and highly trained naturalists. The program in which your students are participating is part of their school curriculum with academic content as well as life skills that can foster a sense of community and understanding through students' interactions with peers and teachers.
Classes & Activities

Eagle Bluff's classes are three-hours in length and are led by our knowledgeable and enthusiastic staff who get to know each student by name.

Our staff all have a minimum of a bachelor's degree in science, teaching, or the environment and many are participating in an a post-graduate training program.

---

Our curriculum is written to Minnesota's Academic Standards with a focus on STEM concepts and life skills and we utilize hands-on, experiential teaching methods to engage students in their learning. Oh, and every class (except Rock Climbing) is taught outside, in nature's classroom!

---

Your student will also participate in resource conservation programs such as the Eagle Eye and FoodWISE programs where students will be challenged to earn awards based on their conservation efforts.
Dining & Lodging

Good nutrition and a comfortable night's rest are critical to good learning. Meals are served cafeteria style featuring a main entree, a selection of side dishes, salad bar, and fresh fruit for each lunch and dinner. At breakfast, an entree and a side, as well as fresh fruit and cereal are available. Our kitchen staff are able to accommodate most people with special dietary needs. We are a nut-free facility.

It is necessary to communicate any medically diagnosed dietary conditions or needs of anyone in your group BEFORE your arrival at Eagle Bluff otherwise any information not communicated may not be able to be accommodated during your stay.

Contact your lead teacher or group leader with any diagnosed dietary condition such as a life-threatening allergy or intolerance or need for an alternate option such as a vegetarian or vegan meal. These dietary needs will be communicated with Eagle Bluff prior to your visit. If you have specific questions about about our food service operations or procedures, please contact us at foodservice@eaglebluffmn.org. Also note that food may be offered during classes and all food offered in classes is optional. Instructors should be aware and communicate the top 5 allergens present in class food. If there is an airborne or contact allergy (verses ingestion allergy), the school should make Eagle Bluff aware ahead of time and the activity will be omitted from class.

About 75% of a K-12 Overnight experience will occur outdoors. Balancing that, we have indoor classrooms and activity areas and comfortable dorm rooms. Each individual dorm room houses eight and has its own cubby storage, double sink, bathroom, shower, and nightlight.
Contacting Your Student

PHONE MESSAGES: Students are not permitted to use phones unless authorized by the coordinating teacher. Also please DO NOT send cell phones with your student as they are a major distraction for outdoor experiences and may be easily lost. If it is necessary to reach someone at Eagle Bluff, the main telephone line at (507) 467-2437 is answered Monday through Friday from 8:00 a.m. to 4:30 p.m. Please note, the person you are trying to reach may be temporarily unavailable if participating in our programming, but we will contact them as soon as possible. After hours, a voice mail system may respond to your call. This system is monitored regularly in the evenings and any messages left before 9 p.m. will be delivered by 10:00 p.m. that evening. After 9:00 pm, our voice mail system will direct you to leave a message, which will be delivered first thing in the morning.

Most weekends we do not have a staff person regularly answering the phones. Voicemails are checked periodically throughout the day.

SNAIL MAIL: Letters and packages can be sent to your student at the following address. Mail and non-emergency messages will be delivered at dinner each evening. Please do not send candy or any other items on the "Do Not Bring" list, as they will be removed from the child's possession. Also, as our location is a bit more remote, we recommend sending mail at least a two days in advance of your student's trip.

Student's NAME & SCHOOL
c/o Eagle Bluff ELC
28097 Goodview Drive
Lanesboro, MN 55949

In Case of EXTREME Emergency: After hours, our voice mail system will direct you to an on-site emergency contact number – please use this number for emergencies only. If you must immediately contact a visitor during the night, contact our onsite Caretaker at (507) 467-2928 and explain your emergency. As a final option, you may also contact the Fillmore County Sheriff's Department at (507) 765-3874. They will notify Eagle Bluff staff directly and see that your message is delivered promptly.
Student Safety & Supervision

Student safety is our highest priority. Supervision by chaperones, maintaining a well-trained staff, and providing access to medical needs are ways Eagle Bluff helps keep kids safe and comfortable.

Our Staff: All of our instructors are over 21 years of age, undergo background checks, and are held to the highest professional standards. All equipment used in our programs is checked and replaced regularly.
Student Supervision: Chaperone supervision of students is necessary at all times. Eagle Bluff requires a minimum of a 1:10 chaperone to student ratio. They are supervised as they travel to and from classes, during all evening activities, during meal times and free times, and any time they are in the dorm.
Adult Identification: All adults to approach with questions or concerns will be wearing identification. Eagle Bluff staff will be wearing nametags; teachers and parent chaperones are requested to wear their School ID.
Keypad Door Lock: The main entrance to the dormitory is fitted with a keypad door lock. All doors will be locked from 10pm to 6am with the only access during those hours through the keypad door. Each school will be given their own keypad access code before their arrival at Eagle Bluff and it is their responsibility to distribute it to the appropriate persons as they see fit.
First Aid and Emergencies: Eagle Bluff maintains a First Aid room with medical supplies and an AED however, each group is encouraged to bring their own medical supplies. Eagle Bluff doesn't not provide a nurse and relies on teachers, administrators, or school nurse to administer student medication. To facilitate the best medical care at Eagle Bluff, make it a priority to send pertinent medications with your students. This includes any "as needed" medications like nebulizers, inhalers, or epi-pens. In case of emergency, the local ambulance service has roughly a 10 minute response time to Eagle Bluff and advanced EMS is located in Rochester through the Mayo Clinic. Eagle Bluff staff are trained in First Aid/CPR.
Cold Weather Guidelines: During inclement weather, Eagle Bluff personnel who are professionals and trained in cold weather interventions will assess the conditions to ensure the safety of both the students and adult chaperones. Consideration will be given for the air temperature, wind chill, and student clothing to determine the appropriate amount of indoor/outdoor activity time for each class. Temperatures which fall below -20° (wind or air) will greatly reduce the amount of time spent outdoors. The -20° degree guideline is based on frostbite averages according to the Wind Chill chart from the National Weather Service. Our classes feature back-up activities Eagle Bluff instructors can draw from if outdoor activity times are reduced.
Minnesota K-12 Education Subtraction and Credit

Minnesota offers an education subtraction and credit for families whose children participate in out-of-school enrichment programs. Eagle Bluff qualifies as one of these programs. The guidelines, qualifications and restrictions can be found at the MN Department of Revenue website under "Individuals", "Taxes", then "Subtraction Credits"; or by phone at 800-652-9094.

Only the cost of instruction qualifies for a deduction. Room, board, and transportation do not qualify for the credit. Instruction costs for the current academic year are:

3-days: $52.64
4-days: $72.85
5-day: $91.18
What is Eagle Bluff?
We are a residential environmental learning center which means we are like a school and a camp and a nature center. Students come here to learn about the environment, in the environment. Our campus is located in the beautiful Bluff Country of SE Minnesota just outside a town called Lanesboro. That's here! →
We believe that together we can make a difference by connecting people to the natural world through experiential learning and positive outdoor experiences. We do this through lots of different programs but our most popular is the trip that you are about to take with your school or group.
What you get to do…
Click on the videos below to see some of the things you may experience on your trip!
K-12 Overnight Trip Sneak Peak
Who teaches you…
Where you get to stay…
You will be staying in our dormitory. Your school might not be the only school here, so we ask that you please be respectful of each group and the shared space. The dorms of Eagle Bluff have beds for 8 people. Each room is same gender only and your teacher will make room assignments prior to your stay.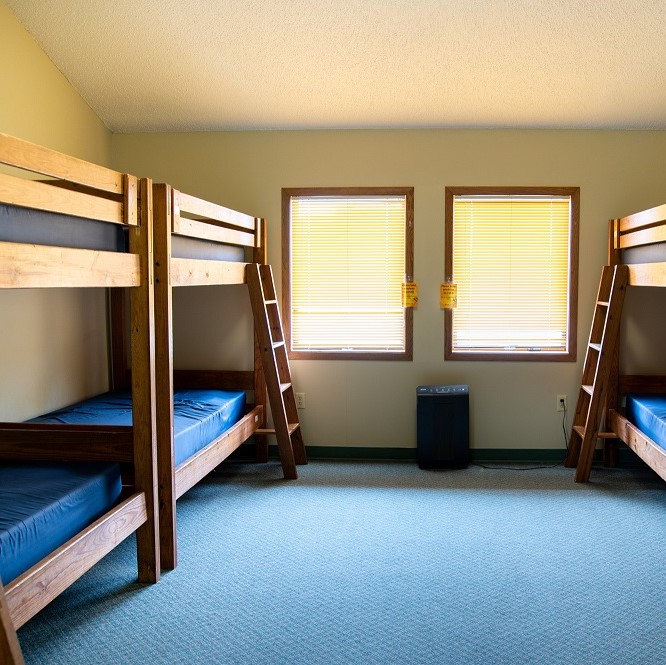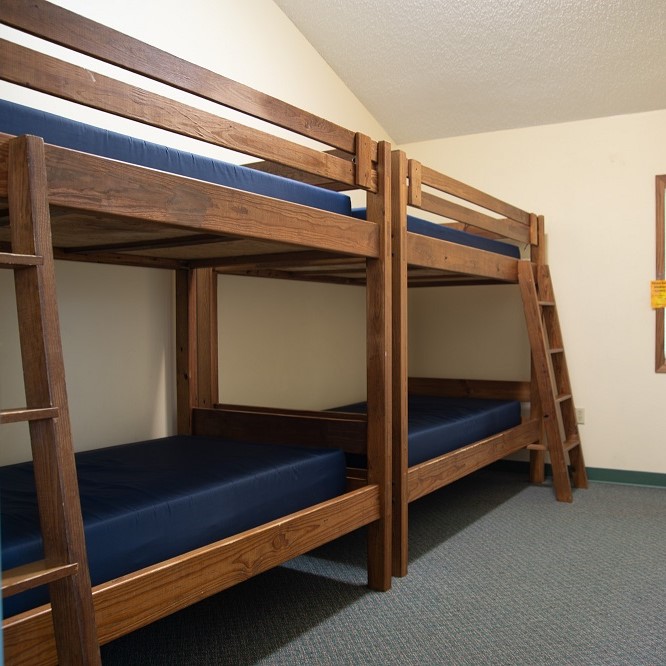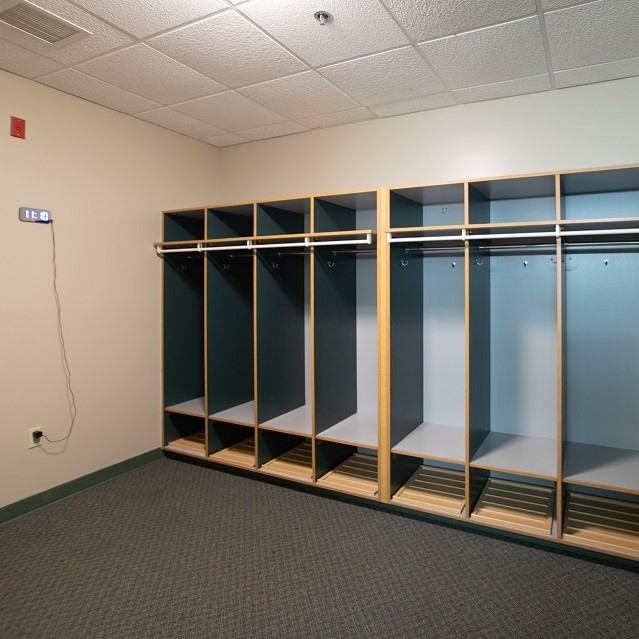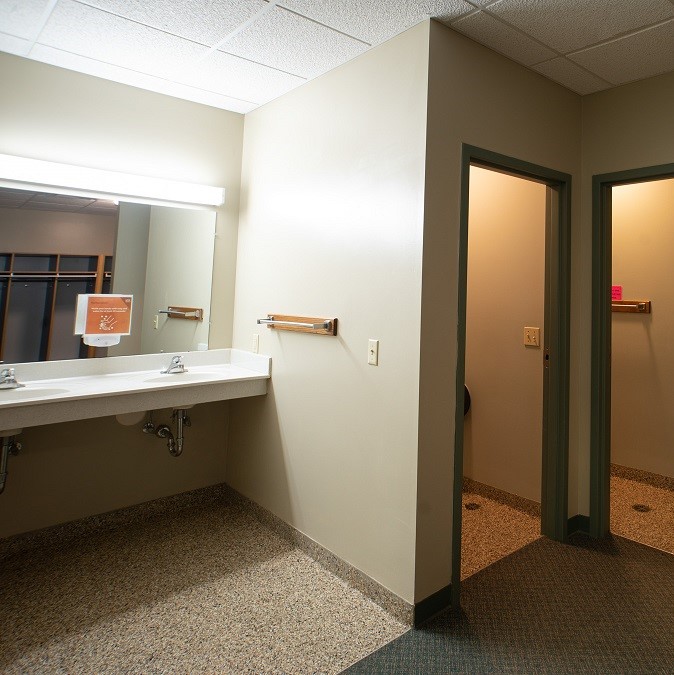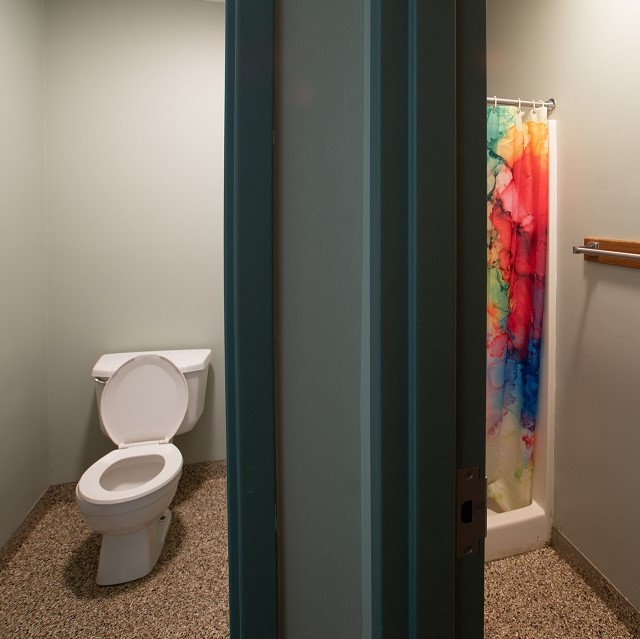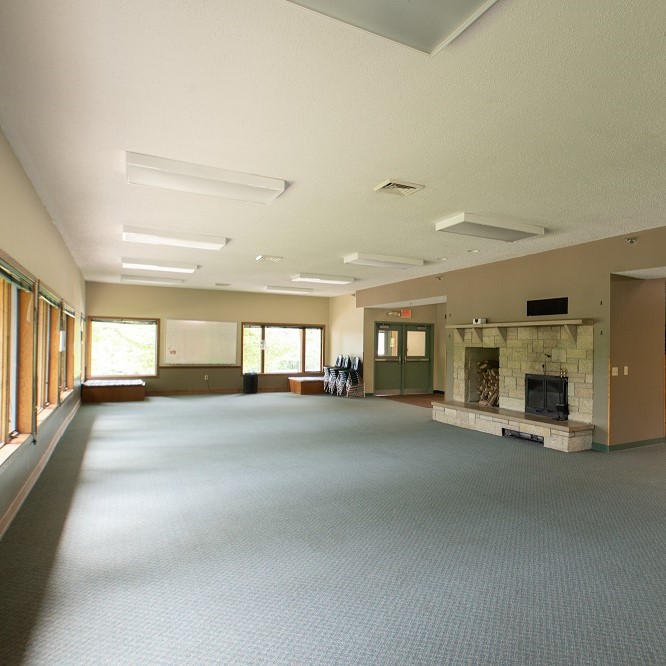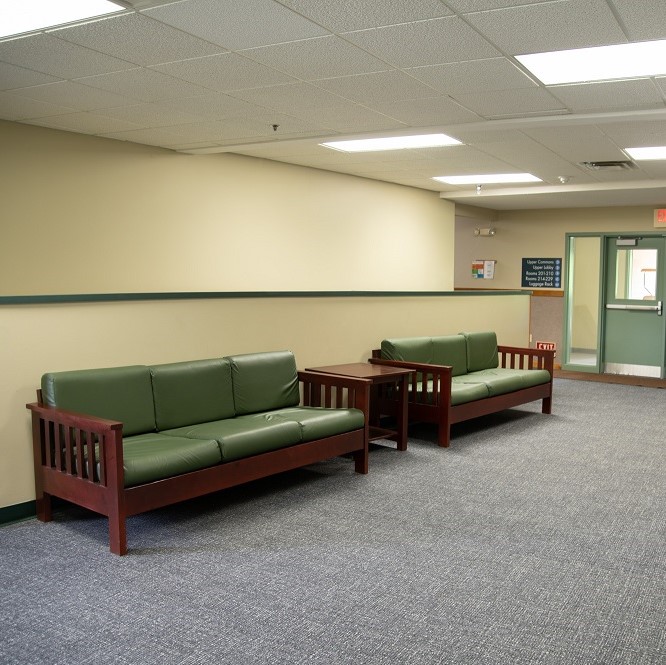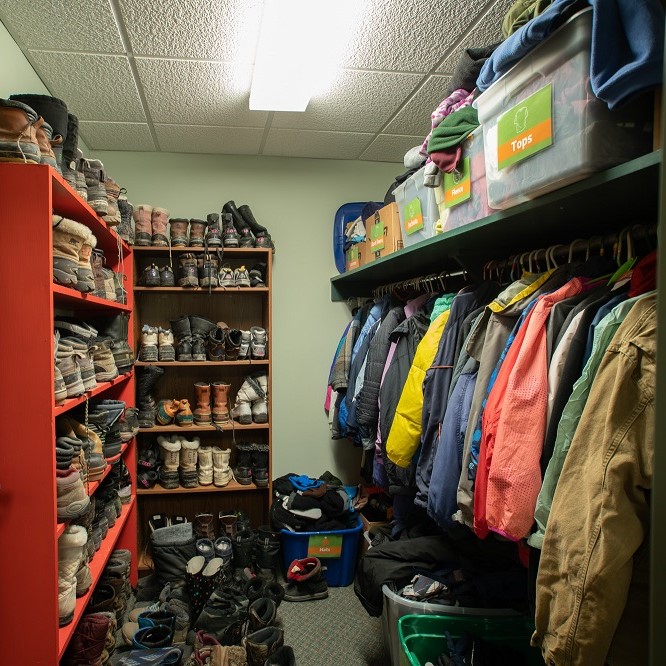 The dorm rooms have:
four bunkbeds,
a spacious cubby space to hang up all your stuff,
a separate private shower and bathroom in your room,
and a nightlight, if needed.
We ask that you leave your iPods and cell phones at home, but don't forget a sleeping bag or blanket. Not sure what to bring?
Where & what you get to eat…
When you get to the dining hall you will see that we serve meals cafeteria style…you get to go through the food line and tell the servers what you would like (or not like) to eat. There is always a salad or breakfast bar too if you don't prefer what's offered for a main dish. Sometimes we have pizza, sometimes chicken nuggets, sometimes tacos…but when you come, be sure to let your liaison know if you have any special dietary needs such as gluten free, vegetarian, or food allergies. That way we can make sure we have something for you to eat. You may also get a chance to do KP (Kitchen Party) during your stay.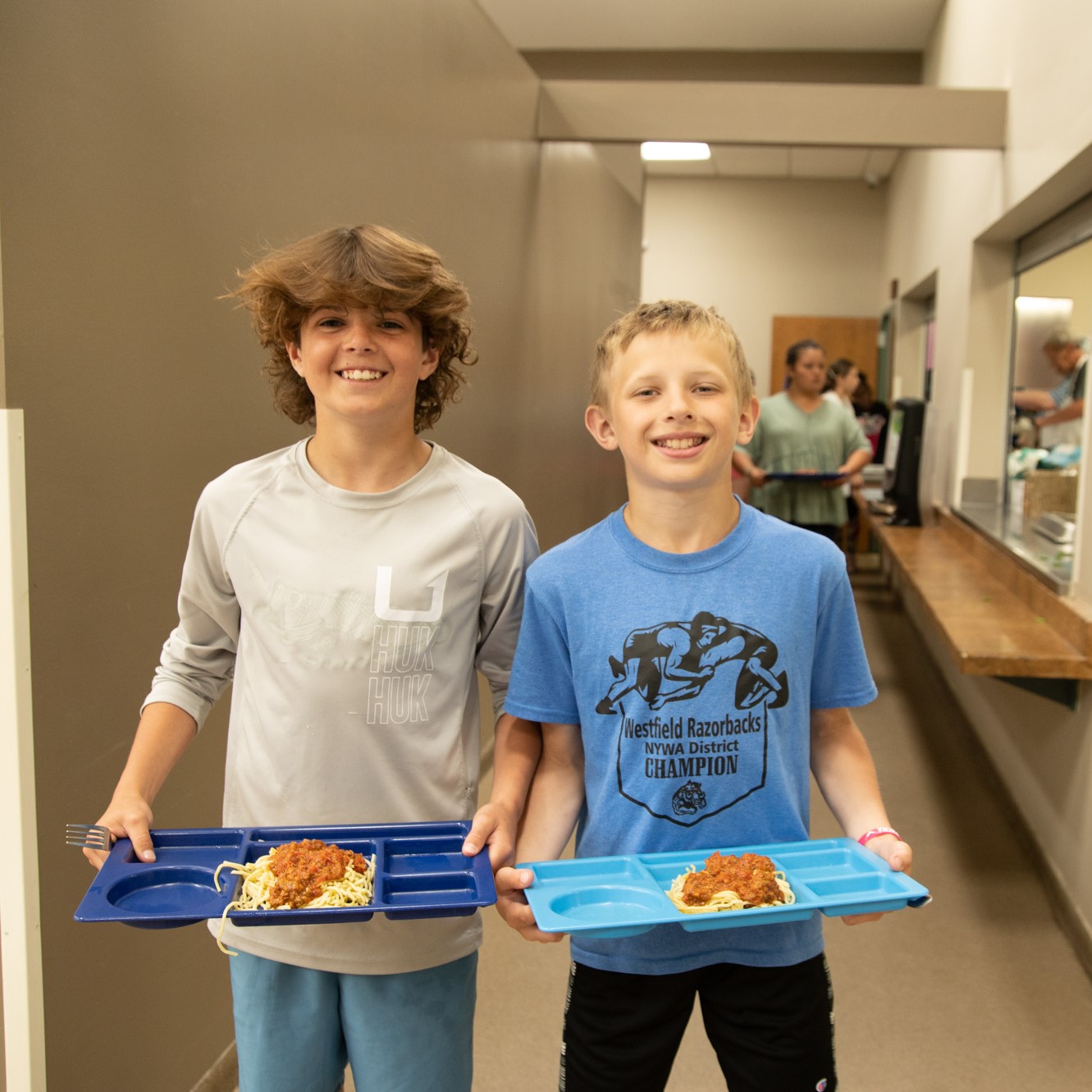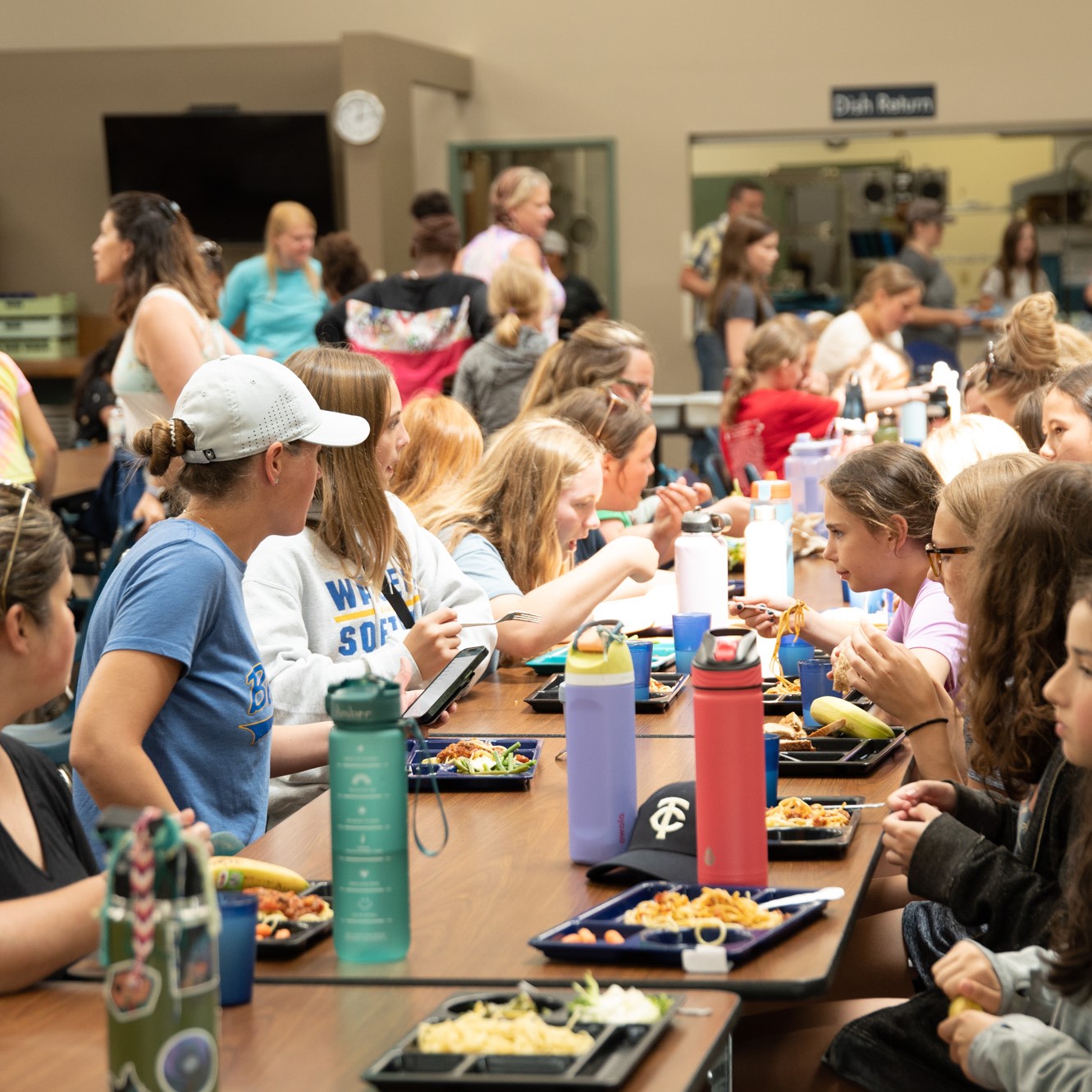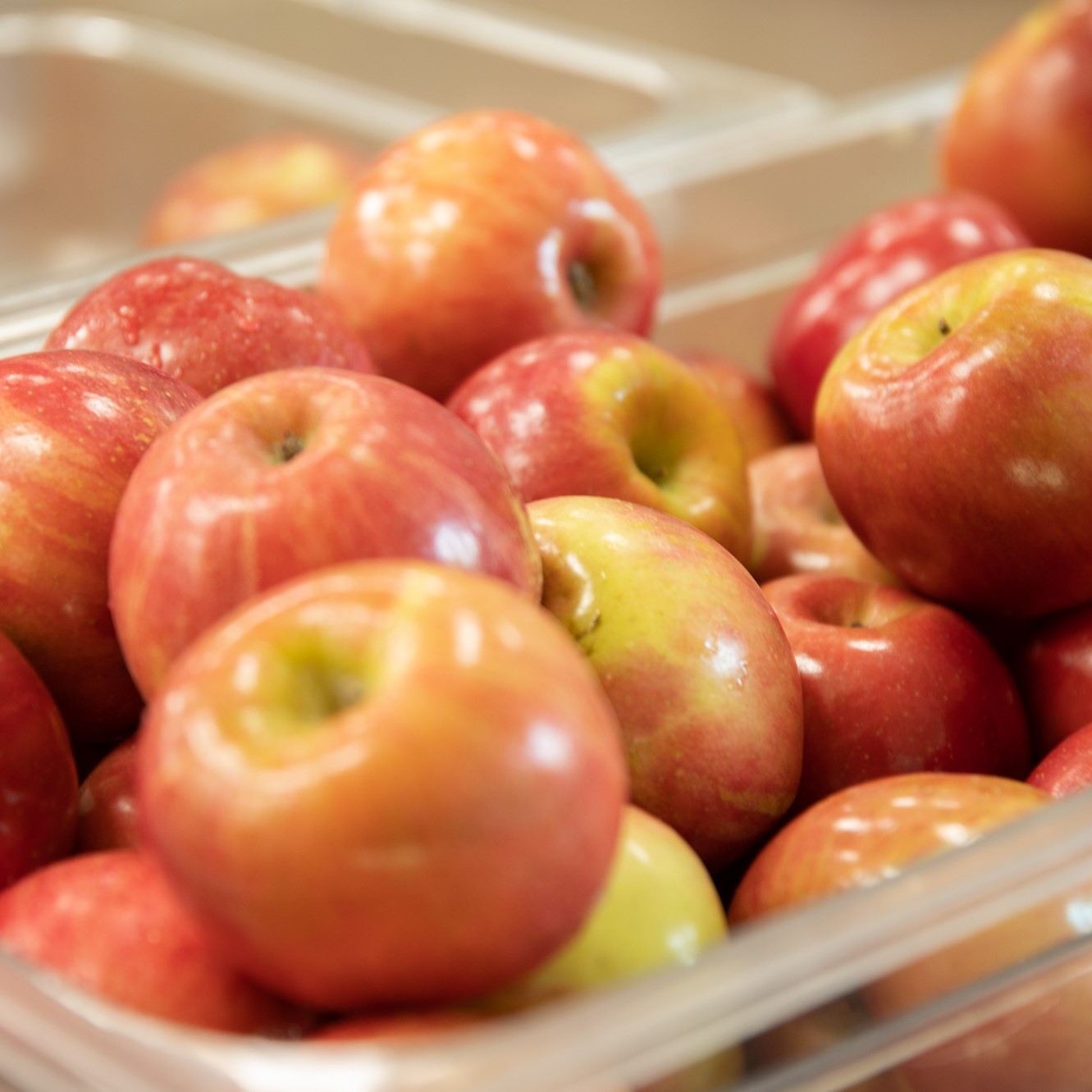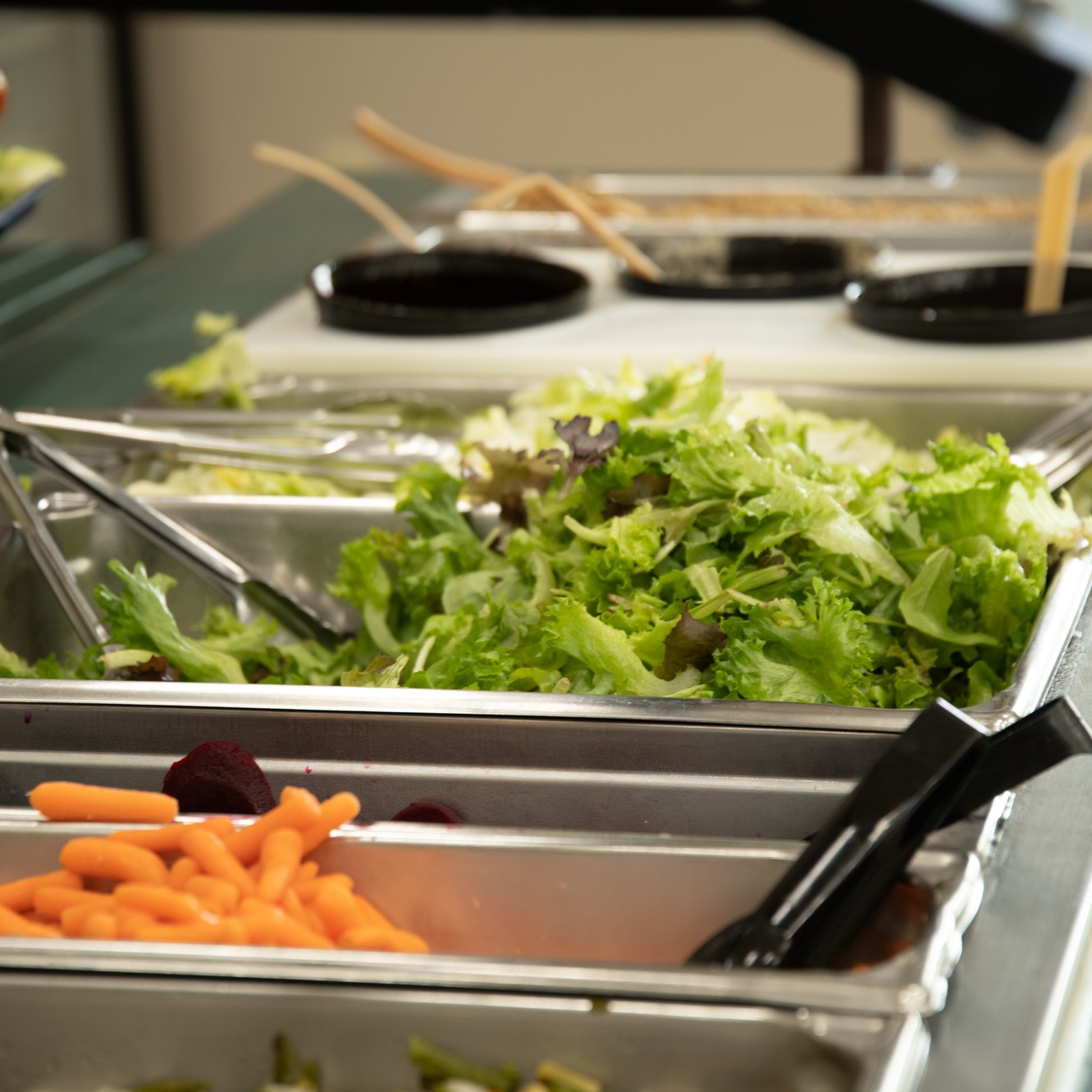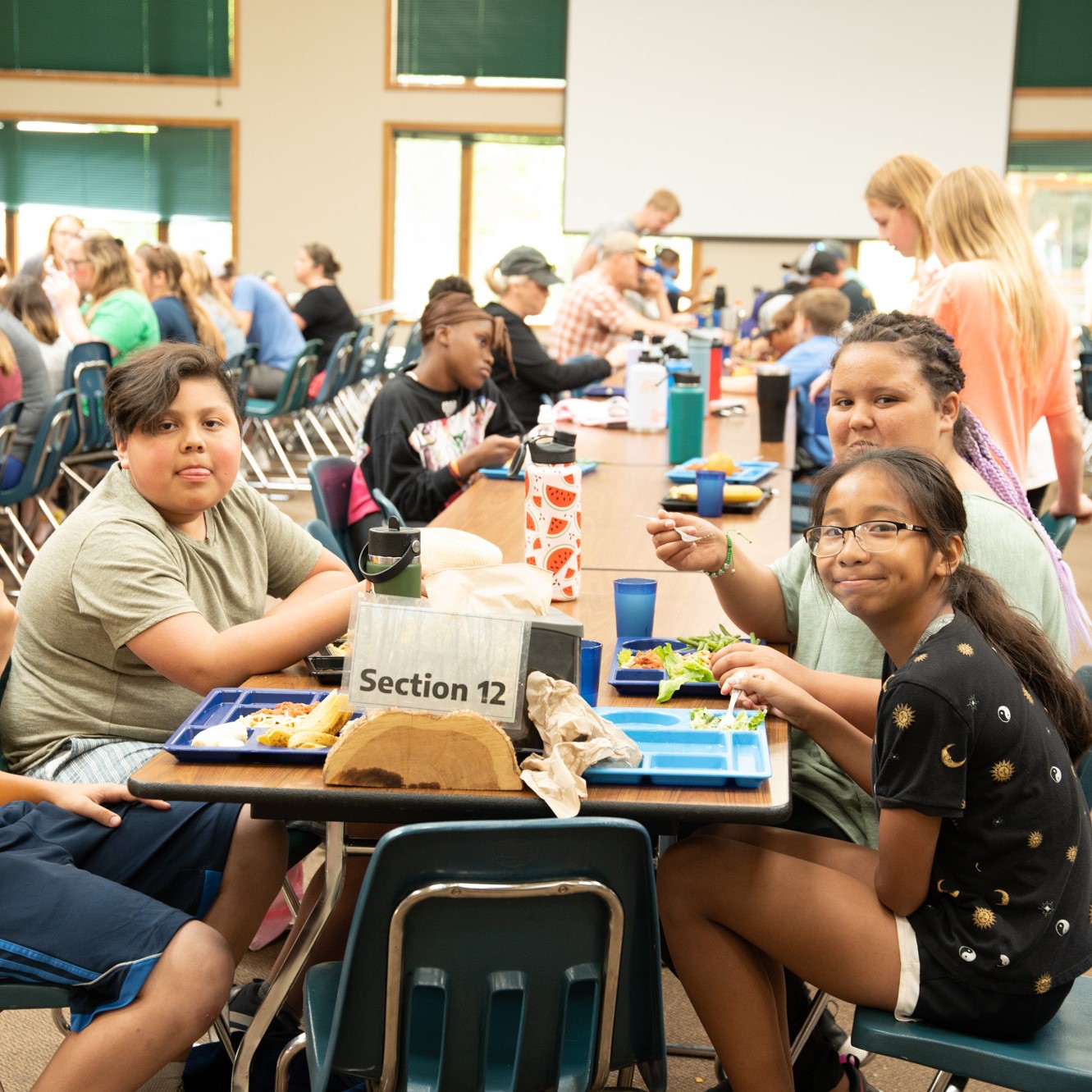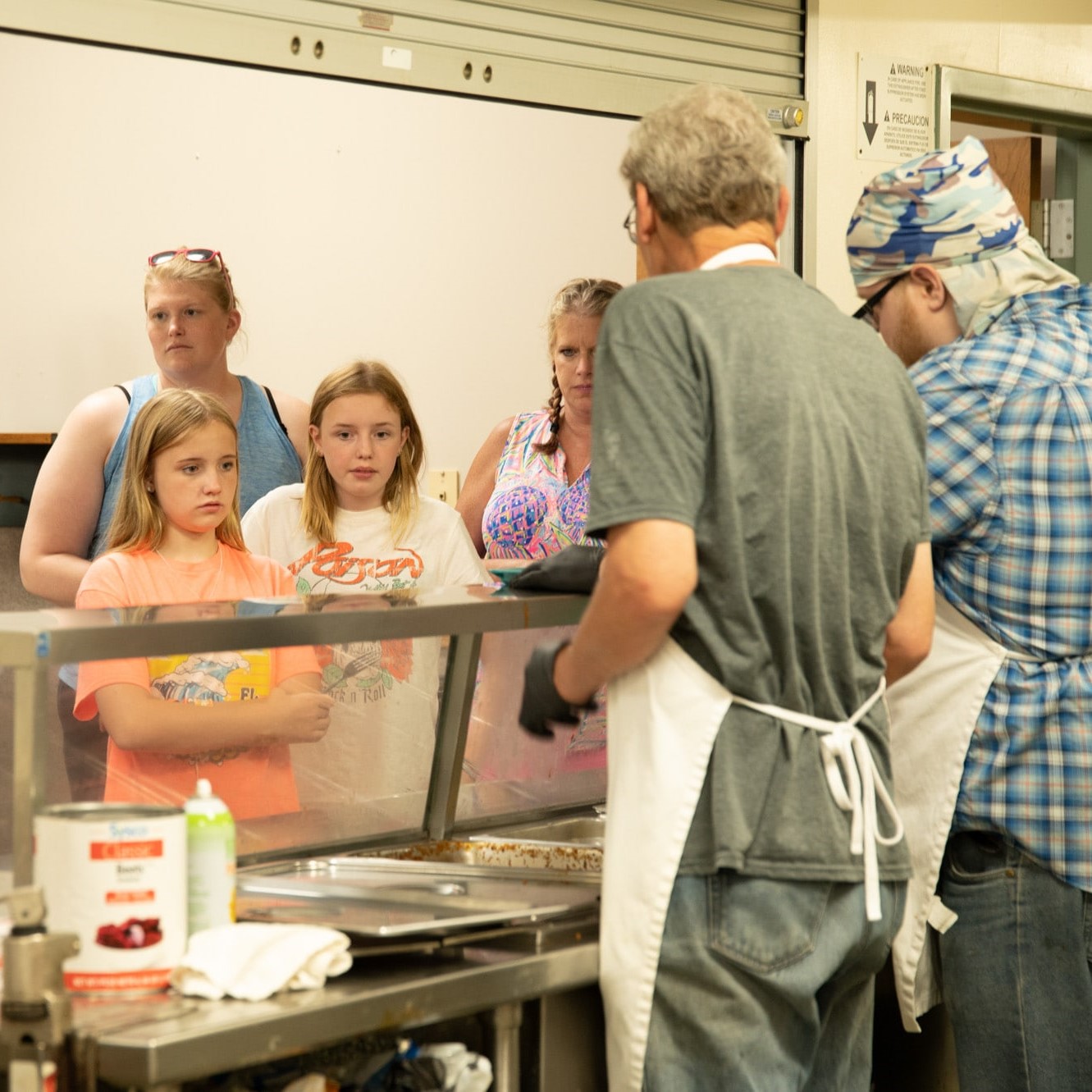 Whatever we have, we try to have as much local food as possible. We also grow our own shiitake mushrooms on site.
Eagle Bluff also works to conserve our resources, such as food. While you are staying here we ask that you take just what you'll eat and eat what you take in an effort to reduce the amount of waste in our landfills. By taking only what you'll eat, composting food scraps like apple cores, and recycling materials whenever possible, together we can reduce the amount of waste in a landfill!