Winter Outdoor Family Weekend
February 17
@
6:00 pm
–
February 19
@
3:00 pm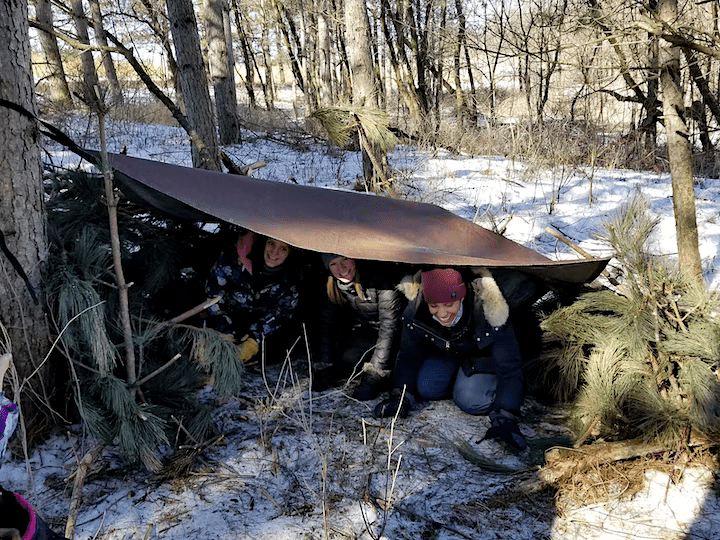 Join us for a weekend of outdoor family fun, with chances to participate in our high ropes course, outdoor winter activities, rock climbing, archery, geocaching & more!
Your days will be filled with educational classes and activities for the whole family, while your evenings will feature programs such as campfires and presentations led by our knowledgeable naturalists.
Cost of weekend: $165 per family member attending
Meals (Saturday breakfast – Sunday lunch) and a private dorm room for your family are included in the cost of attendance. Learn more about our lodging and dining hall.
This weekend is designed for ages 6 and up, however, all ages are welcome. If you are planning on bringing a child who is under the age of 6, please reach out and let us know before completing your ticket purchase. Contact: GG at gg@eaglebluffmn.org.
Potential class choices include (final class schedule for the weekend will include 4 of these choices):
Indoor Rock Climbing
East Treetops (6+yo, minimum of 30″ height from ground to belly button)
Archery
Snowshoeing (dependent on snow conditions)
Cross Country Skiing (dependent on snow conditions)
Indoor Air Rifles
Fly Tying (recommended 9 yo+)
Ice Fishing
Settler Life
Winter Survival
Anticipated schedule for Family Weekend:
Friday
Evening
6:00 – 7:00 Check-in
7:00 – 7:30 Welcome and Orientation
7:30 – 8:30 Naturalist Program
Nighttime
9:00 – 10:00 Quiet Time in Rooms
10:00 – 6:30 Lights Out/Quiet Hours
Saturday
Morning
7:30 – 8:30 Breakfast
8:30 – 11:30 Class
11:30 – 12:00 Free Time
Afternoon
12:00 – 1:30 Lunch/Free Time
1:30 – 4:30 Class
4:30 – 5:00 Free Time
Evening
5:00 – 6:30 Dinner/Free Time
6:30 – 7:30 Naturalist Program
7:30 – 8:45 Campfire and S'mores
Nighttime
9:00-10:00 Quiet Time in Rooms
10:00 – 6:30 Lights Out/Quiet Hours
Sunday
Morning
7:30 – 8:30 Breakfast
8:30 -11:30 Class
11:30 – 12:00 Free Time
Afternoon
12:00 – 1:30 Lunch/Free Time
1:30 – 3:30 Class
3:30 Departure
Related Events