Sustainability of Land and Labor with Cates Family Farm (Virtual Event)
June 13, 2020
@
6:00 pm
–
7:00 pm
Donate any amount to attend this virtual event!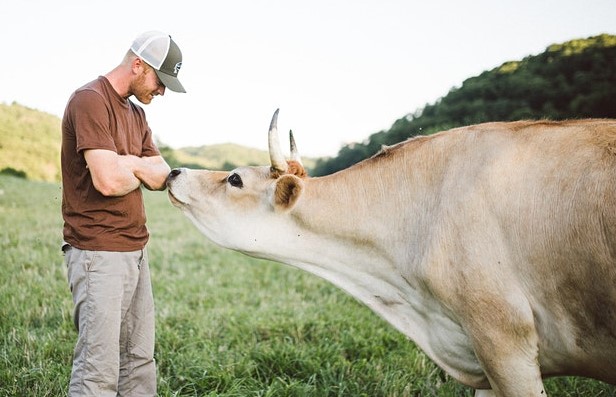 Join us for a virtual talk with Dick and Eric Cates of Cates Family Farm!
With the ongoing COVID-19 pandemic and social distancing guidelines, we have worked with our presenters to make this Dinner on the Bluff event VIRTUAL! While we unfortunately can't all enjoy the same delicious meal in the Eagle Bluff Dining Hall, feel free to cook along with us to the recipe that will be sent out prior to the event.
A Zoom meeting link will be sent to you two days before the event.
Sustainability of Land and Labor: Checking in on Local Food with Cates Family Farm
Speakers: Richard Cates, PhD, Professor Emititus at Unversity of Wisconsin, Madison & Eric Cates, Owner, Cates Farm LLC
Talk description:
Dick and Eric Cates, a father son pairing of Spring Green, WI, have been in the grass-fed cattle business for over 20 years. Using his knowledge as a soil ecology and agriculture professor, Dick transformed his cattle operation into a movement-based system in which the farm's cattle mimic the migration patterns of the bison. This has led to a resurgence in flora and fauna on the farm, the restoration of a trout stream, and high quality beef sold directly to consumers. Now, his son Eric runs the farm, determining when to move cattle and to where, with the best interest of both the land and the animals at heart.
With the onset of the COVID-19 pandemic, the Cates Family Farm was not immune to change: "Restaurants have stopped most of their ordering of course, and retail stores have slowed down. Thankfully, households have increased their interest in buying locally, so he has made some new customers and friends among them…a silver lining." The latter half of this talk will explore that silver lining further, examining the resiliency of local food systems, and how direct-to-consumer farms have both new challenges and an opportunity to grow during these novel times.
As Dick and Eric share their story, we hope to incorporate more Question and Answer into this virtual Dinner on the Bluff, and so we ask you to please consider any questions you may have for the pair of them prior to or during their talk. Questions can be emailed to henryw@eaglebluffmn.org or sent the Henry Whitehead in a direct Zoom Chat message during the event.
Virtual event platform:
This event will take place via the popular Zoom meeting platform. For those who haven't used Zoom before, instructions will be provided when you click on the webinar link that will be sent to you prior to the event.
About Dinner on the Bluff
Dinner on the Bluff, now in its 16th year, is designed to give thought-leaders and experts in the environmental field the opportunity to discuss issues with the broader Eagle Bluff community.
Dinner on the Bluff is sponsored in part by the University of Minnesota Extension's Regional Sustainable Development Partnerships program .
Note: As access to webinar is granted via a donation to Eagle Bluff, no refunds will be issued for purchased tickets. Thank you for your understanding.
Eagle Bluff Environmental Learning Center is a nonprofit, tax-exempt charitable organization (tax identification number 41-1431959) under Section 501(c)(3) of the Internal Revenue Code. Donations made in excess of the fair-market value of the event ticket ($10/person) are tax-deductible to the extent allowed by law.