Frosty High Ropes Experience at Eagle Bluff!
February 21, 2021
@
2:00 pm
–
5:00 pm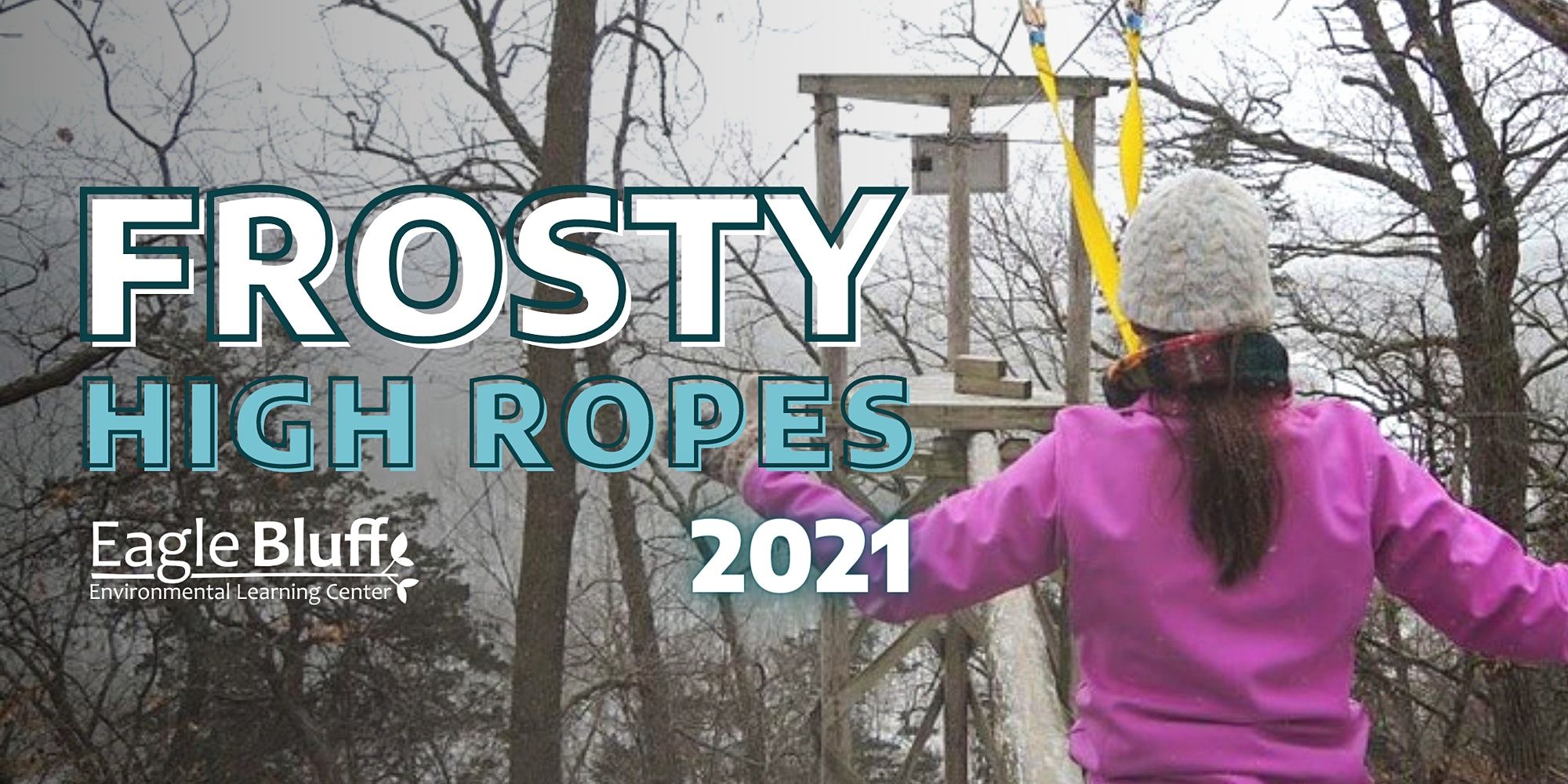 Experience the beauty of winter during this rare, cold-weather experience on our unique High Ropes course!
Maneuver 30 feet in the air through a series of towers connected by various cables, ropes, and log events. This confidence building experience is great for family outings, friends, scouts, youth groups, and individuals. Get beautiful views of the icey Root River and winter in SE Minnesota. Please note: You will be grouped with others registering for the same time slot. If you would like to reserve your own private session you may purchase the entire time slot.
One run-through is guaranteed, but participants may have the chance to go through more based upon instructor's discretion, timing, weather, and group size!
Please note: Participants are required to wear closed-toed shoes and bring a mask!

Pre-registration and moderate physical ability are required. Ticket sales end 1 day before the event.

Take a tour of our brand new course (and see what the experience is like):

General FAQs

When should I arrive?

We ask that everyone arrives 15 minutes before their session start time. (9:45 for the morning session; 1:45 for the afternoon session). Please park in the main visitor's parking lot that's on your left as you arrive. Take the walking path by the check-in sign towards the Dining Hall and Dorm.
Can I just show up and pay at the door?

We strongly advise pre-registering online to ensure you get a spot! There is a maximum number of participants allowed at each session, so if all spots are already filled for the day/time you show up you will not be able to go on the course.
Is there an age limit to enter the event?

Children that will be participating need to be at least 6 years old to do the course. Children under the age 11 will need to be accompanied ON THE COURSE by an adult from their party.
Participants under 18, accompanied by someone other than their parent/guardian, must provide a medical form signed by a parent/guardian to participate. Please print and sign this release form and present at check-in.
What should I wear?

Please dress appropriately for the weather conditions. We recommend a base layer, insulation layer, and hardshell wind/snow-proof layer. Snowpants, a warm hat without a pom-pom on top (fitting under a helmet), a scarf/neck gater, and waterproof gloves are highly recommended. Closed-toed shoes are required, but insulated, waterproof boots are strongly recommended. A mask is required and will need to be worn during specific close-contact activities during the course.
See more information about winter layering on REI's Website: https://www.rei.com/learn/expert-advice/layering-basics.html

What if there is bad weather?

The course will be open rain, snow, or shine. Eagle Bluff only cancels our course if the temperature is below -20 degrees or winds are greater than 20 mph winds, so please dress for the weather. The event will only be called off if the instructors deem the weather unsafe and in that instance if you have not attempted the course you will be provided a refund.
How long will the course take?

The time for the event can take anywhere from 1-3 hours. Included in the time for the high ropes course event: walking to the course, going through equipment and safety protocols, watching an instructor demonstrate the course and then each individual enters the course. Your exact amount of time is usually determined by when you ascend the course in relation to the other participants. The course itself takes anywhere from 10-40 minutes for each individual. Once you (and any individuals you came with) are finished with the course, you are free to leave. There may be opportunities to go through the course a second time for those who wish to!
What else can I do at Eagle Bluff?

There are lots of trails to hike at Eagle Bluff. Maps are available at the Visitor's Center to guide you on your exploration of deciduous woods, rolling prairies, coniferous woods, or the Root River. Besides hiking, we have a few very unique overlooks at the bluff. You can also borrow binoculars from the front desk for birding and try our geocaching course. There are picnic tables around campus for public use.
Snowshoes and cross-country skis are periodically available for rental, depending on staffing and snow conditions. Contact Erinn Kronebusch, Outdoor School Manager at erinnk@eaglebluffmn.org for rental reservations.
Regarding our COVID-19 procedures:

We want all participants to bring and be prepared to wear a mask for select, close-quarters activities (e.g. checking harnesses for ropes course) or needing to seek unplanned indoor refuge for weather related reasons. Masks are recommended to be worn by the MN Department of Health and the CDC when it's hard to maintain social distancing (especially indoors). Even though the activities we are hosting will allow for adequate social distancing, manageable by all ages, we require our participants to be prepared to wear a mask when asked.
Participants will be given their own equipment to use for the duration of each activity and will not be sharing with participants outside of their immediate household. It will be adequately cleaned and sanitized in between use following protocols listed by the MN Department of Health, manufacturer, and the American Camp Association.
Participants will be required to complete a Med-Release and COVID-19 Release form, found in the confirmation email. We'll have them on hand for completion day-of, but if a minor is attending without their legal guardian, the forms need to be completed ahead of time.
Anyone participating in an Eagle Bluff program will be screened before they are able to engage in the activity. All participants must answer the questions on the MN Department of Health Visitor and Employee Screening Checklist. If participants do not meet our screening requirements, they will not be allowed to participate in activities that day.
Dates And Times

Saturday, February 20, 2021

10:00 AM – 1:00 PM CDT
2:00 PM – 5:00 PM CDT
Sunday, February 21, 2021

10:00 AM – 1:00 PM CDT
2:00 PM – 5:00 PM CDT
Capacity and Rates

Maximum 15 people per session (this may increase if state guidelines change).
$40 per person.
Location

Eagle Bluff Environmental Learning Center
28097 Goodview Dr
Lanesboro, MN 55949
Refund Policy

Refunds up to 1 day before event
Related Events