Fossil Hunting in Fillmore County
Recurring event
see all
July 10, 2021
@
1:00 pm
–
4:00 pm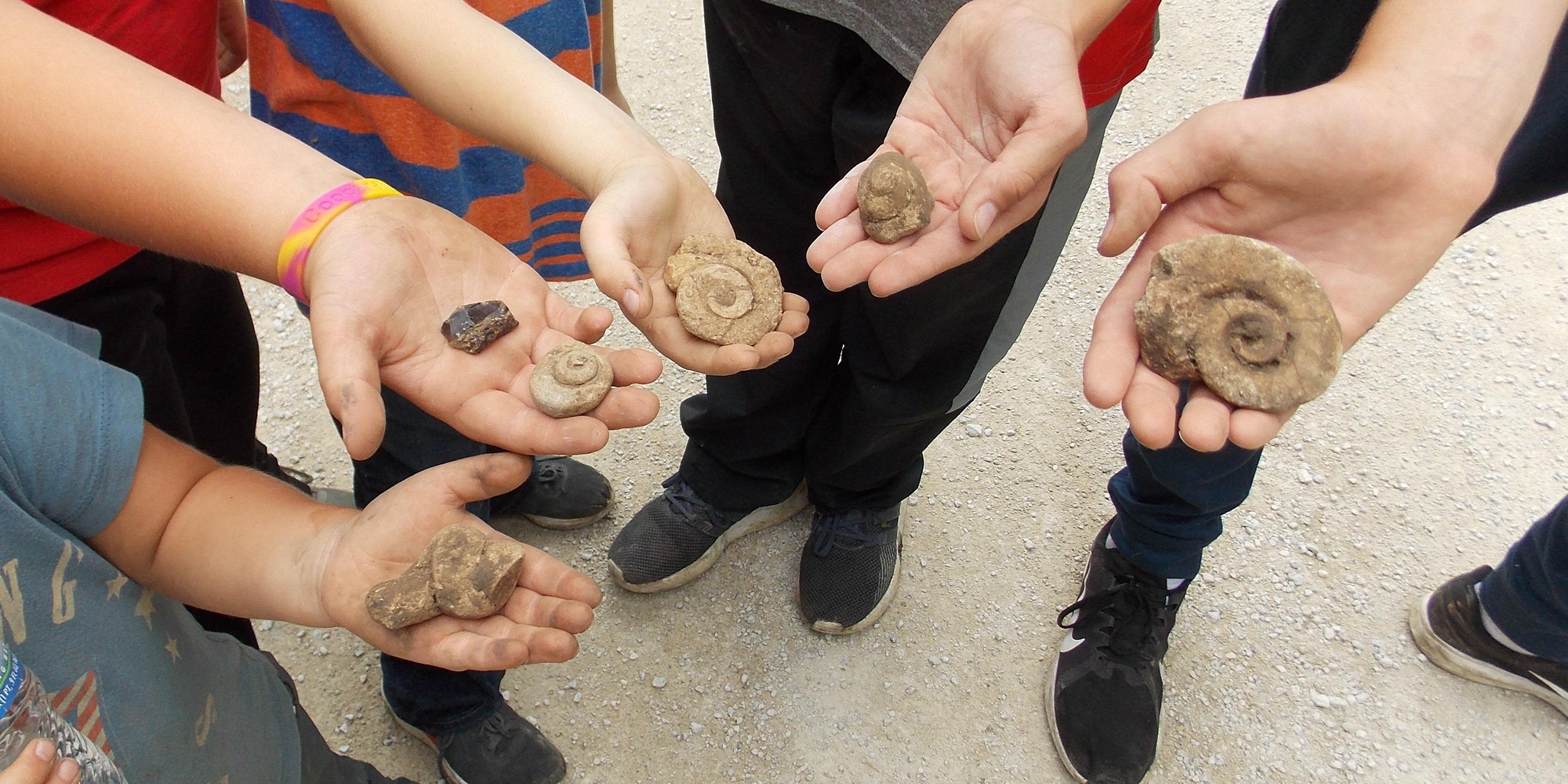 Spend an afternoon outside searching for fossils 100s of millions of years old! Great for the whole family!
COVID-19 UPDATE: Eagle Bluff has made changes to this event to maximize the safety of participants while also making space for positive outdoor recreation and activities. The number of available tickets has been reduced, and we ask that all groups maintain proper social distancing for the duration of the activity. We ask that all participants stay home from the event if they are feeling unwell or have had possible contacts with individuals carrying COVID-19; your ticket will be refunded or applied to a later date.
Did you know that fossils older than dinosaurs can be found right here in Minnesota's Driftless Area? This family-friendly afternoon begins At Whispering Winds, Spring Valley, where you will tour fossil collections of ancient sea creatures including Gastropods, Cephalopods, Trilobites, Fisherites, Bryozoans and Brachiopods. Then you'll travel to 2-3 sites to hunt, all within 7 miles of Spring Valley, and collect your own fossils- guaranteed! There is always the chance that you could find ice-age fossils, Native American artifacts, cold water agates, and geodes. All ages welcome!
We recommend bringing a bag for carrying your fossils. You are also welcome to bring a hammer, but if you do so we require eye protection.
Persons under 18 must be accompanied by a ticketed adult for all fossil hunting activities– no drop offs.
Note: Eagle Bluff van transportation is NOT available for this class. You will be driving yourself to Whispering Winds hobby farm in Spring Valley, MN.
**Schedule a private fossil hunt, tailored to you. For 1 to 10 individuals. Perfect for individuals trying to grow their collection, birthday parties, completion of Boy and Girl Scout Badges, or just a fun day out! Contact Eagle Bluff for more information.
Instructor –Beverly Sandlin is an amateur paleontologist and host of Bluffcountryfossils.net & accompanying Fossil Adventure Blog. She has lectured throughout southeast Minnesota on fossils and has hosted numerous tours and fossil hunts. Whispering Winds and one collection site are handicap accessible.
Want more information on the history of fossils in the Driftless Area? Watch this fun 25 minute documentary to learn more: https://www.youtube.com/watch?v=xn_DOPumFkU
Packing List:
Sunscreen and bug spray
Snacks and Beverages
Long pants, quality footwear, and clothing to be comfortable in outside
A face covering
A bag or box to store your fossils
Optional: A hammer and safety goggles for breaking open rocks
Testimonial
"Going on the fossil hunt with the Fossil Lady was one of the best days of the summer. It was so much fun and educational (without even realizing it was educational). 🙂 My son is nine years old, and he summed up the day as "awesome" and gave it a "five out of five stars." It was not what I expected when signed up for a fossil hunt, but I was greatly surprised. We had such a blast. The Fossil Lady knows her fossils and has the best-kept secrets in Fillmore County for its beauty and fossils. I would recommend this adventure for anyone who likes rocks/fossils and new discoveries." – Shari
Related Events