Dinner on the Bluff: Forty Years of Peregrine Research
May 14
@
5:00 pm
–
7:30 pm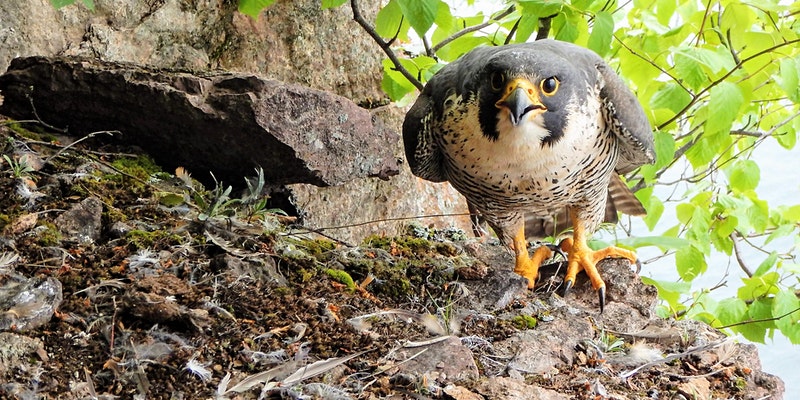 "Celebrating Success…Continuing the Work! Forty Years of Peregrine Research"
Jacquelyn Fallon, VP of Field Operations & Minnesota State Coordinator for the Midwest Peregrine Society, will be the featured speaker at Eagle Bluff Environmental Learning Center's Dinner on the Bluff event May 14th!
The remarkable success of the peregrine falcon recovery program is one of the most highly celebrated restoration efforts of the 20th Century.
With more than a 70% decline throughout its global range, the species was on the fast track to potential extinction, especially in the lower 48 states. Thankfully, falconers created a captive breeding program which was able to produce over 7000 falcons. Within 30 years' time, the species was declared recovered in North America.
Today, the peregrine falcon has expanded their range and surpassed historical population levels to a level no one could have possibly imagined. Fallon will discuss the history, process, and monitoring discoveries such as fecundity, migration, density, and adaptability to an everchanging landscape.
Fallon will be accompanied by a special guest (a live peregrine falcon!) and her speech will be preceded by a three-course dinner with complimentary beer and wine provided beforehand.
Evening itinerary:
5:00pm – Dining hall doors open, beer/wine provided
5:30pm – Dinner in the dining hall
6:15pm – Dinner ends, move to Discovery Center auditorium
6:30pm – Presentation begins
7:15pm – Q&A with presenter
Dinner menu:
1st course:
Spring mix with apricot dressing (GF & vegan)
Herbed fougasse bread (vegan, GF baguettes will be available)
Aigo Bouido soup (GF & vegan)
2nd course:
Ballotine de Poulet (GF available) House made chicken sausage wrapped in a chicken served with a chicken port jus
Polenta (GF)
Vegan option: Wild mushroom marsala with red quinoa
Dessert:
Apple tarts (GF & vegan tarts available)
Speaker bio:
Jacquelyn Fallon is the VP of Field Operations for the Midwest Peregrine Society and MN state coordinator. She has been involved with peregrine falcon monitoring and research since 1988, focusing on population fluctuations and human-peregrine conflict mitigation. Jackie has nearly 35 years' experience with endangered species programs and species restoration efforts, primarily canids and raptors. She has a BS in Biology from Cornell College in Mt. Vernon, IA.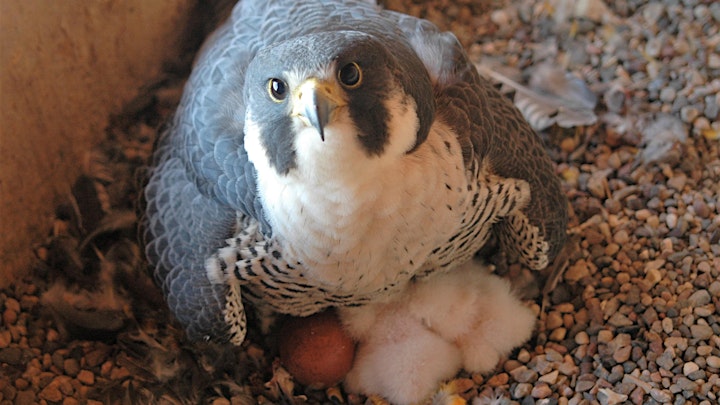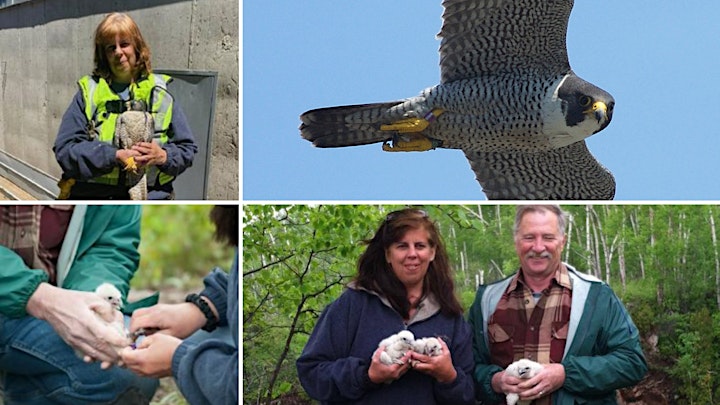 About Dinner on the Bluff:
Located in the scenic bluff country of Lanesboro, Minnesota, Eagle Bluff is a non-profit, year-round environmental learning center providing education programs & outdoor adventures to over 16,000 children and adults each year. Through transformative hands-on experiences we aim to increase environmental awareness & academic literacy, spark curiosity & appreciation for the natural world, and empower people to care for the earth and each other.
Dinner on the Bluff, now in its 18th year, is designed to give thought-leaders and experts in the environmental field the opportunity to discuss issues with the broader Eagle Bluff community.
---
Related Events